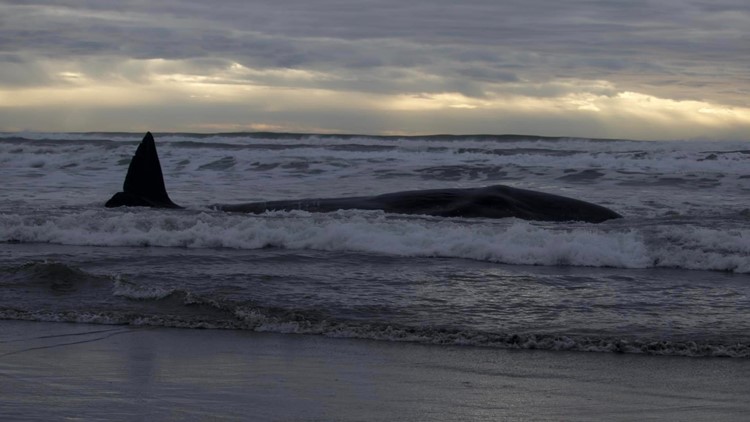 The Coast Guard is asking for the public to remain at least 200 yards away from the whale.
WARRENTON, Ore — A beached whale was spotted at Fort Stevens State Park along the northern Oregon coast Saturday afternoon. 
The Coast Guard said they were aware of the beached whale and had passed all information known to the National Oceanic and Atmospheric Administration to take lead in responding. 
They asked that the public keep a distance of at least 200 yards away from the whale for their safety and the whale's safety. 
According to Michael Milstein with NOAA, the body of a whale is still in the surf, dead and somewhat decomposed. It is located south of the Wreck of the Peter Iredale in the park.
Currently, the size, age and sex of the whale is unknown. Milstein said it is a sperm whale, but has not been confirmed. Sperm whales are less common off Oregon and Washington in the winter, Milstein said, so the washup is unusual.
Due to the current high tides, NOAA probably won't be able to examine the body of the whale until Monday. 
Beached whale at Fort Stevens State Park
Just two week ago, Oregon State Park's hosted Whale Watch Week along the Oregon Coast. A time when thousands of gray whales migrated south through Oregon's waters to the warm lagoons of Baja Mexico.
An estimate 19,000 gray whales are expected to swim past Oregon's shores. About 30 whales pass by each hour, according to Oregon State Parks.
See a typo in this article? Email web@kgw.com for corrections