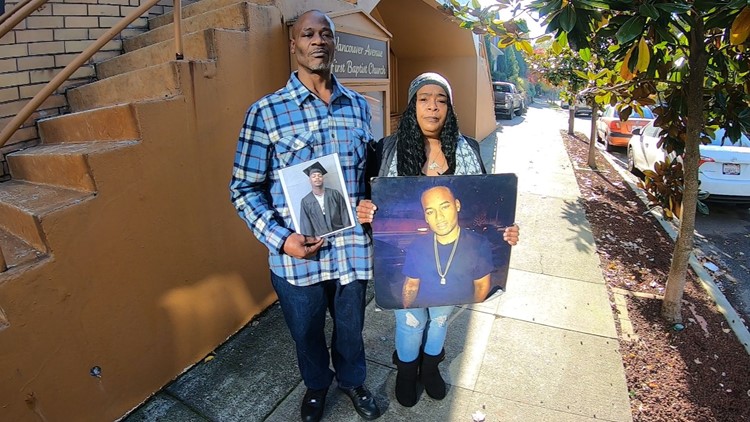 In 2015 Laray Seamster, 26, was shot and killed in North Portland. His brother, Sammie West III, was killed five years later. Both murders remain unsolved.
PORTLAND, Ore — On Nov. 11, 2015 Laray William Seamster, 26, was shot multiples times near North Vancouver Avenue and Fargo Street in North Portland. He was taken to the hospital where he was pronounced dead shortly after arrival. 
Seven years later his murder remains unsolved — with no suspects and no arrest — and his family continues to plead for answers. 
On Saturday Seamster's parents spoke with KGW about their ongoing fight for justice, and their message to other families going through similar tragedies. 
"We're still living with the pain. We're trying to push on," said Sammie West, Seamster's father.
"Everyday is a struggle. It just varies day to day. Good days, bad days. It's just like the weather," explained Seamster's mother, Erica West. "It just changes as it goes."
"It's a mother's worst nightmare," she said at the time. "I'm just empty right now."
"It's hard," she said Saturday, "It will never get any better. I just pray for justice and peace, not only for my family but for other families that have gone through, or are going through the things that we're going through."
"We taught them how to act out in the world," said Sammie West. "And somehow, someway they got caught up in some things we didn't know about."
As they remember the lives of their sons, the family prayed for a change to put an end to senseless gun violence that's only increased in the last seven years.
"That's why we want to just get these guns off the streets. Because if we don't there's going to be more families like ours and that's not what we want."
Portland Police and Crime Stoppers of Oregon are also asking for the public's help in solving the 2015 homicide — offering $2,500 for information that leads to an arrest. PPB stated in a release that witnesses told police two younger Black males were involved in the shooting and ran out of the area, possibly leaving in a silver vehicle.