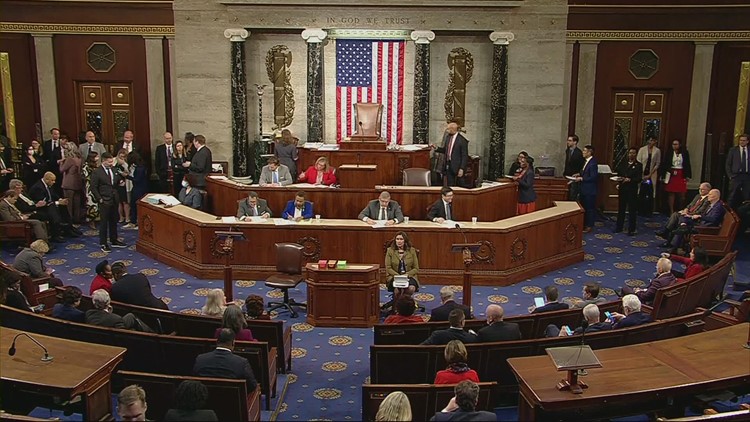 After three days and 11 votes, many new lawmakers are still waiting to be sworn in.
"Many of us were saying we don't really have a job yet, we're not getting paid yet, I'm like, this is my volunteer job!" chuckled Salinas, a freshman legislator representing Oregon's 6th Congressional District. "There were just a lot of jokes on the floor about stuff like that."
After three days and 11 failed votes, there was only so much levity to be found in a situation that grows more serious by the day. Despite numerous concessions, Rep. Kevin McCarthy of California has failed to sway a group of far-right Republicans, blocking him from the leadership role.
"My vote does not get Kevin McCarthy the speakership," said Rep. Lauren Boebert of Colorado. "I am a no on Kevin."
Political insiders suggested a "promising deal" was close, but after three days of similar reports, few Democrats are holding their breath amid frustration.
"I feel like we are letting down the people across the U.S. who really do expect us to start to dive into the important issues," said Salinas. "So for instance in my district, it's the Farm Bill reauthorization. We don't have our committee assignments, we don't know where we'll be serving."
Salinas is one of three freshman legislators from Oregon waiting to be sworn in. But that can't happen until the House chooses its next speaker. Sitting in that same boat is Congresswoman-elect Democrat Marie Glusenkamp-Perez. She shared this statement with KGW:
"I came to Congress to get things done for Southwest Washington. I'm here to pass a right-to-repair bill, cut red tape for small businesses, and deliver results for working families. Every day the House goes without a Speaker is a day Southwest Washington goes without the representation it deserves. It's past time to put people over politics and elect a Speaker, and I remain open to supporting a unity candidate if one steps forward."
Oregon's Republican representatives Cliff Bentz and Rep.-Elect Lori Chavez-DeRemer both voted for McCarthy. Oregon's Democratic representatives Suzanne Bonamici, Val Hoyle, Earl Blumenauer, and Salinas all voted for Rep. Hakeem Jeffries of New York.
"My hope is to be sworn in, that is my hope every day," laughed Salinas. "So I'm no longer congresswoman-elect, I'm congresswoman and we can get rolling, here."