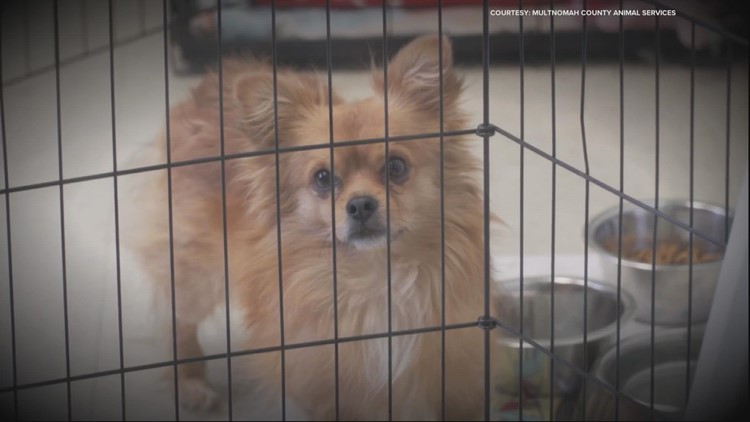 The county will resume taking in stray pets Jan. 11 in addition to resuming in-person animal adoptions for the first time since the pandemic.
PORTLAND, Oregon — Beginning on Wednesday, the Multnomah County Animal Services will put a pause on taking in stray pets until Jan. 11, something county officials said they've never done before.
"Right now we are in a true crisis moment," said Marian Cannell, animal services operations manager. She said at one point Wednesday, all 85 of the shelter's kennel spaces were occupied.
"We also had pets that were in offices," said Cannell. "Every available office that we have had a pet in it."
Capacity is just part of the reason the county is pausing on accepting any more stray animals.
"It creates an opportunity to do an important reset to move forward for our vision of the shelter," said Erin Grahek, director of animal services.
Part of that vision includes bringing back in-person adoptions to the shelter beginning on Jan. 11, a first since the pandemic began. 
Grahek said their short-staffed team will take next week to catch up on logistics like scheduling and things they've had to ignore in order to focus on caring for the animals coming in. 
In December of 2022, Cannell said the county took in 479 pets. That's compared to 298 pets in December of 2021. She said December is always a bad month with animals scared by New Year's Eve fireworks.
"We have never been at the level where we are meeting such compounding challenges," said Cannell. "So considering our intake, the number of pets coming in is significantly more than pets leaving."
The county is getting some relief from the Oregon Humane Society. On Wednesday, a team from OHS picked up 15 dogs, a rabbit and guineapig from Multnomah County's shelter.
"We'll be back out on Thursday to get some cats and bring them back," said Laura Klink with the OHS. "We operate on a model where we always have a little [space] flexibility for emergencies."
The county has reached out to other animal shelters for overcrowding relief, only to find they're facing the same problem. For that reason, they're asking the public to consider fostering an animal.
"By fostering a pet even if it's temporary, you can allow us a little bit of breathing room," said Cannell.
The county also needs donations to support foster families and volunteers who can help at the shelter.
The county is asking people who come across stray pets — from now until next week — to do what they can to help on their own. They suggested checking with neighbors, calling the number on the pet's tag if they have one, or getting the animal's chip scanned. 
If a pet found is wearing a Multnomah County license tag — use the county's license lookup page to get owner contact information. People can also submit a Found Report making sure to attach a photo of the animal. 
County officials said their pause on taking in stray pets will not impact their ability to remove potentially dangerous animals from the community.