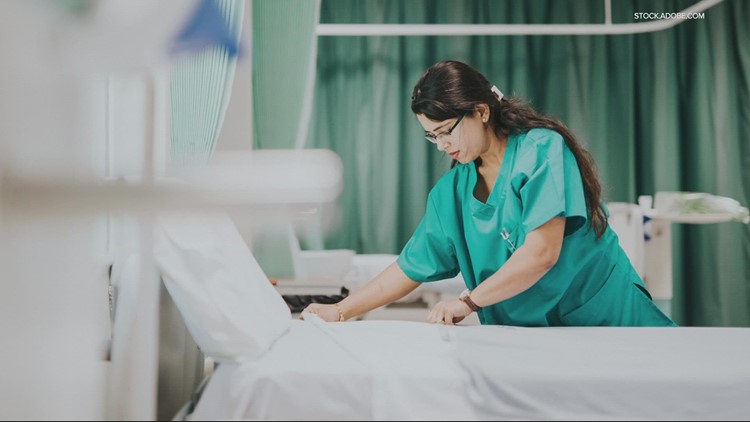 Nurses are pushing the state to set standards for safe staffing, saying the current system leads to burnout — a risk to nurses and their patients.
VANCOUVER, Wash. — There has been a lot of discussion about the effects of the COVID-19 pandemic on the health care system, and overworked workers has been a regular theme.
Nurse staffing issues have been around longer than before the pandemic and it's only gotten worse now.

"Right now, staffing is a struggle for us. I think in all honesty it's worse now than it was at the height of the pandemic," said Dawn Marick, a registered nurse in Vancouver.
Marick has experienced the staffing struggle first-hand. And is in favor of Senate Bill 5236, introduced on Tuesday in Olympia during the 2023 legislative session.
The bill would task the Department of Labor and Industries with setting staffing standards for health care workers, and specifically for nurses: set minimum nurse to patient ratios.

Unlike a bill that ultimately failed in Olympia last year, SB 5236 does not set the standards, said Keepnews, but has the state develop them over the next two years with input from everyone involved, including hospital management.
However, the Washington State Hospital Association does not support the bill. Its legislative agenda focuses on attracting more people to nursing and creating a statewide group to innovate new ways to manage staffing.
In a statement, WSHA said in part: 
"Mandated hospital staffing ratios do nothing to address the challenges facing the entire health care system. The bill would impose rigid one-size fits all ratios on hospitals across the state, regardless of the experience of nurses or complexity of the patients."
"I feel that's a mistake on their part. We think that hospitals have a stake in this too and stabilizing the workforce," said Keepnews.
Marick agrees, arguing standards must be set by the state in order to attract, retain and bring back nurses.
"I hear a lot that there are nurses there just aren't nurses willing to work in the environment that find ourselves in anymore because it's not safe for us, and bottom line, it's not safe for the community members we take care of," said Marick.
The bill is scheduled for a public hearing in the Senate Labor and Commerce Committee on Jan. 17 at 10:30 a.m.