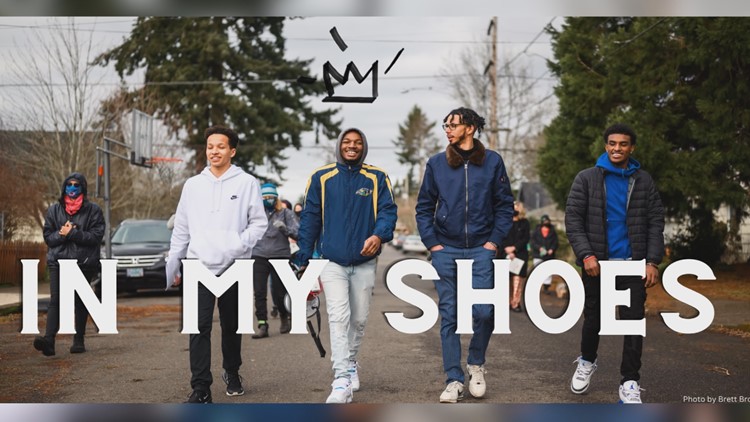 Each weekend in February, young Black men will share their perspectives while leading others on a walking tour through their neighborhoods.
PORTLAND, Ore. — Seventeen-year-old Girmy Kiflemariam stands outside the Charles Jordan Community Center in North Portland. He is planning to give others a walking tour through his neighborhood this month.
Being a Black teenager in a city that is largely white can feel isolating, Kiflemariam said, but he feels at home in his neighborhood.
"I just want to share my own personal narrative and not the perspective of people who have never lived in this neighborhood," he said. "I want to give you guys an inside view of our neighborhood."
Kiflemariam is part of a Portland nonprofit called Word is Bond. The organization helps Black men, 15 to 20 years old, find leadership opportunities like internships.
The nonprofit is organizing walking tours during the month of February, which is Black History Month. The event, called In My Shoes, aims to highlight the experiences of young Black men. Every Saturday and Sunday this month, young Black men will take others through their neighborhoods to share their perspectives on where they grew up and what it's like to be Black in Portland.
"Because so often, the stories of young Black men are told for them but not by them, so this experience is they get to lead people on these tours, said Lakayana Drury, the executive director and founder of Word is Bond.
In My Shoes is in its second year. This year, there will be eight different tours designed by the young men. During the tours, people will also hear original poetry and hear from the guides about the visions they have for the city and the changes they want to see.
Kiflemariam showed Drury through his neighborhood. He said a lot of people stereotype the area and it has a reputation for being dangerous, but it's much more than that.
"The community center, Charles Jordan being the first Black city council member," Kiflemariam said as he pointed towards the center. "We have a village market. It's a market for low-income people in the neighborhood. We have a Boys and Girls Club. So it just shows all of the places we have progressed to."
Anyone who wants to attend a tour can view the full schedule and sign up on the nonprofit's website. The tours are free, but people can make a donation to Word is Bond.