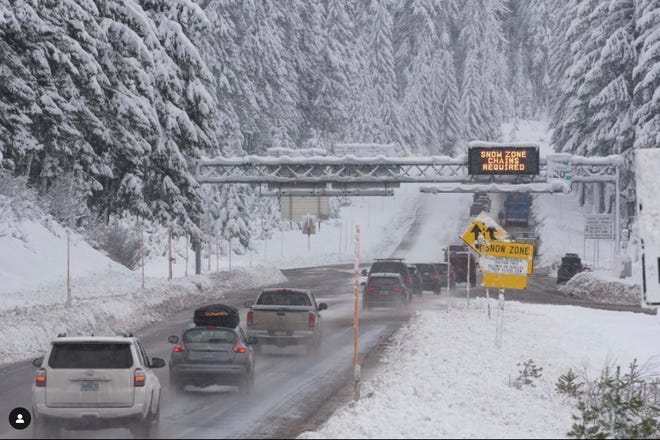 Story updated at 8:15 a.m. on Thursday, March 9
Oregon's mountains will continue to get hammered by winter's wrath Thursday to Friday, but in the Willamette Valley, the weather will start to look a bit more normal.
A winter storm warning has been issued for Oregon mountain roads above 3,000 feet, where 8 to 16 inches of snow is forecast. Snowfall could reach even heavier levels above 4,000 feet, where 24 inches inches is forecast, according to the National Weather Service in Portland.
The heavy snow and blowing winds could make travel nearly impossible over Cascade Range passes such as Santiam Pass (Highway 20), Willamette Pass (Highway 58) and the Government Camp area (Highway 26), particularly on Thursday night.
"Period of heaviest snow is expected to be Thursday evening, then again Friday morning through early Friday afternoon," NWS said.
This system will be quite a bit different from the past two weeks that have seen multiple mornings with Willamette Valley or low-elevation snow. Oregon is forecast to transition back into a warmer or more normal pattern that includes rain in the valley and lower elevations along with snow in the mountains.
In Salem and Eugene, about an inch of rain is forecast between Thursday and Friday, while Saturday should turn dry.
"It's going to be warmer than it has been, and it'll be more of a spring-like system," said Chris Burling, a meteorologist at the National Weather Service in Portland. "We should see that classic widespread rain in the lower elevations."
Indeed, a snow level at 3,500 to 4,000 feet is far higher than it has been for weeks. Oregon's ski areas might even see rain at pass levels by Sunday.
Saturday appears to be an ideal day for skiing or winter recreation.
Zach Urness has been an outdoors reporter in Oregon for 15 years and is host of the Explore Oregon Podcast. To support his work, subscribe to the Statesman Journal. Urness is the author of "Best Hikes with Kids: Oregon" and "Hiking Southern Oregon." He can be reached at zurness@StatesmanJournal.com or 503-399-6801. Find him on Twitter at @ZachsORoutdoors.