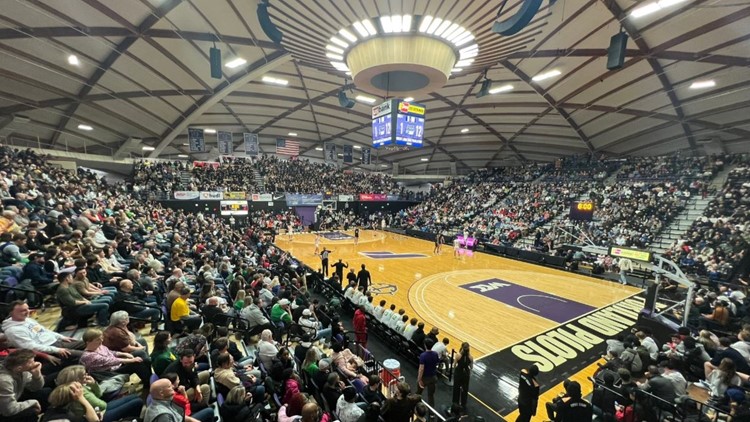 Josiah Lake had 20 points, Jaden Steppe had 19 points and 10 rebounds and Jayden Fortier grabbed 15 rebounds to lead Tualatin to the 60-47 win against West Linn.
PORTLAND, Ore. — Tualatin captured its second consecutive 6A boys basketball state championship, defeating No. 1 seed West Linn 60-47 on Saturday night in front of a sold-out crowd at Chiles Center at the University of Portland.
Josiah Lake had 20 points, five rebounds, three assists, three steals and a block to lead the Timberwolves. Lake did much of his damage at the free-throw line. On a night when neither team shot well at the charity stripe — West Linn made 5 of 11 and outside of Lake, Tualatin shot 4 for 10 — Lake was the exception, hitting 12 of his 16 free-throw attempts.
Jayden Steppe added 19 points and 10 rebounds and Jayden Fortier nearly had a double-double with nine points and a game-high 15 rebounds. Tualatin dominated the boards, outrebounding West Linn 37-23.
Tualatin's swarming defense was stout Saturday night against West Linn, holding the Lions to 40% shooting from the field. West Linn scored just one point in the first quarter and missed 17 of its 19 3-point attempts, including 13 misses in a row before the Lions hit their first 3 late in the third quarter.
Shelstad led all scorers with 24 points, but he had to work for it, as Tualatin used double teams and blitzes to try to get the ball out of his hands. He shot 11 for 20 from the field, but missed all seven of his 3-point attempts. No other player reached double figures for West Linn.
Third-place game
Lincoln 94, Barlow 74: Moroni Seely-Roberts had 34 points, 12 rebounds, five assists and three blocks and his brother Malachi Seely Roberts added 20 points, nine assists and eight rebounds to lead fourth-seeded Lincoln to the victory in the third-place game. Graham Eikenberry added 13 points and 10 rebounds. Barlow was led by Jalen Atkins, who had 28 points, five rebounds and five assists. Mason Bierbrauer added 18 points and five rebounds.
Fourth-place game
Gresham 42, Beaverton 39: Esyah Pippa-White had 18 points and five rebounds and RJ Alexander added 15 points and four rebounds to lead fifth-seeded Gresham to the win in the fourth-place game. Beaverton was led by Max Elmgren, who had 11 points and five rebounds. Jalen Childs added 10 points.