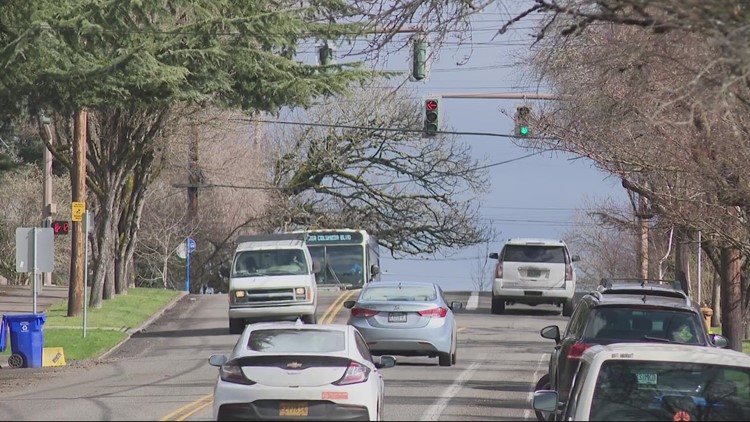 The suspects stole a car and a purse in four separate incidents Sunday afternoon. All of the victims provided matching descriptions of the suspects and their car.
PORTLAND, Ore. — Two thieves used fake emergencies to get drivers to pull over multiple times Sunday afternoon in Portland, the Portland Police Bureau reported. After the drivers pulled over, the suspects stole a purse from inside one of the victim's cars and then stole another victim's car after she got out to see what was wrong.
In each of the four incidents, the victims provided similar descriptions of the suspects and the suspect vehicle.
The suspects were described by all the victims as a Black man in his late teens to early 20s and a Black teenage boy, about 14 years old. The victims described the suspects' vehicle as a blue-silver Subaru Forester with no license plate.
The spree began right around midday on Sunday.
12:09 p.m.: The victim told officers that two suspects in a silver Subaru Forester with no plates flagged her down on Southeast Oaks Park Way near Sellwood Park. They told her to pull over because her gas tank was smoking. The victim pulled over and while she was talking to the driver of the suspect vehicle, the other suspect got out, went around the passenger side of the victim's car and stole her purse, PPB said. The two suspects then drove off.
12:29 p.m.: A victim called 911 and said a silver or blue Subaru Forrester pulled up next to her while she was sitting in her car and said the back of her vehicle was leaking fluids. After she got out of her car and walked to the back to inspect the leak, a teenager jumped into the driver's seat of her car and drove away. Police did not specify the location of this incident.
12:33 p.m.: A person called 911 and said they were driving near Southeast Crystal Springs Boulevard and 42nd Avenue earlier Sunday when a "silver-bluish grey" Subaru with no license plates pulled up in front of them and tried to get them to pull over. The 911 caller said they were able to drive around the suspects and get away.
Sunday afternoon, unspecified time: A woman flagged down officers near Southeast Crystal Springs Boulevard and 48th Avenue and said a young man and a teenager pulled up behind her and flashed their lights and honked, then pulled up alongside her and said her car was leaking fluids. When she rolled down her window to talk to the suspects, the teen tried to get inside her car through the open window. She told officers she was able to stop him and the suspects then drove off.
Another woman reached out to KGW to say she had a similar encounter around 4:30pm Sunday.
"Fortunately, I trusted my instincts," Laura Probst said.
Probst says she was driving along SE Woodstock when the driver of the car behind her started honking the horn and flashing lights. Laura Probst pulled over near Lutz Tavern and the other car did, too. Probst says a young boy in the passenger seat of the other car shouted at her to get out because of issues with her exhaust. Probst refused and drove home immediately. 
"My heart was racing and I was really shaky and I walked in and told my boyfriend what happened," she said.
Probst believes the two people who messed with her are responsible for targeting the other women.
PPB said no arrests have been made and both of the suspects are at large.
Police are asking anyone with information on any of these cases to call the non-emergency number at 503-823-3333 or email crimetips@portlandoregon.gov.
See a typo in this article? Email web@kgw.com for corrections