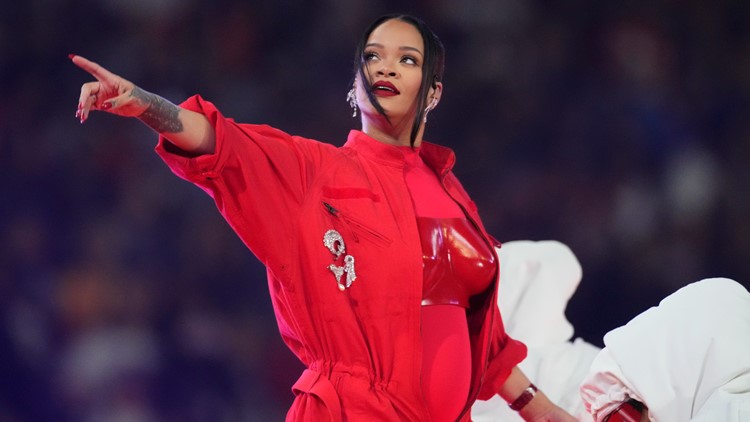 Rihanna's halftime show led to some serious speculation — and it turns out fans were right about her "surprise guest."
Turns out Rihanna did have a guest for her Super Bowl halftime show after all — just not any of the ones fans were expecting. She's pregnant! 
Representatives for Rihanna confirmed the news Sunday night to The Hollywood Reporter and Rolling Stone. Speculation had run rampant on social media after the energetic show, with fans wondering if Rihanna was revealing a baby bump beneath a skin-tight layer of her red costume. 
Further details on the singer's pregnancy, including how far along she is, weren't immediately available. 
One of the first real confirmations appeared to come from CBS News anchor and former NFL receiver Nate Burleson, who interviewed Rihanna ahead of the performance. Responding to a viewer wondering if a baby was the "surprise guest" Rihanna had hinted at, Burleson responded "Bingo!"
Rihanna, 34, welcomed her first child in May 2022 with rapper A$AP Rocky. In a media preview ahead of the Super Bowl, she said motherhood made her feel ready for her first live performance in years. 
"When you become a mom, there's something that just happens where you feel like you can take on the world, you can do anything. The Super Bowl is one of the biggest stages of the world," she said. "There's something exhilarating about the challenge of it all." 
Rihanna is a nine-time Grammy Award-winner with 14 No. 1 Billboard Hot 100 hits, including "We Found Love," "Work," "Umbrella" and "Disturbia." She ended 2022 released with two singles on the soundtrack for Marvel's "Black Panther: Wakanda Forever," "Lift Me Up" and "Born Again."