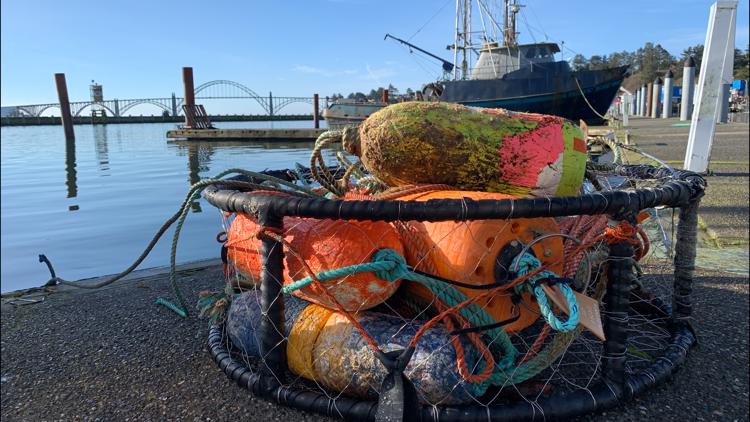 Commercial crabbing from Washington's Klipsan Beach south to Cape Falcon in Oregon won't open until Feb. 1.
SEATTLE — The key Dungeness crab harvest areas from Klipsan Beach, Washington, to Cape Falcon, Oregon, will not open until Feb. 1 because surveys found legal-sized males still lacked enough recoverable meat in their shells.
A policy group that includes the Washington Department of Fish and Wildlife and the Oregon Department of Fish and Wildlife made the announcement late last week, The Seattle Times reported.
The late start to the 2022-2023 commercial season is a disappointment to crabbers. Last season, the harvest started Dec. 1, 2021.
The Dungeness crab harvest is Washington state's most valuable commercial fishery. The seasons have generated on average $47.92 million to crabbers in the past decade.
Starting at 8 a.m. on Jan. 29, crabbers will have a 73-hour period to set their pots for the season beginning Feb. 1.
Tribal ocean crab fisheries are underway.
In Oregon, commercial crab season begins Jan. 15 from Cape Falcon south to Cape Arago. Areas north of Cape Falcon remain closed until Feb. 1.
"In consultation with the crab industry, ODA, and California and Washington fishery managers, ODFW is delaying the opening of the area south of Cape Arago to the Oregon/California border," the agency said in its most recent update. "This delay will allow completion of additional testing for domoic acid and help determine a season opening structure for this area."
ODFW noted that there is a temporary rule in place allowing crabbing vessels to possess and land Dungeness crab in an area that is otherwise closed to commercial crabbing.