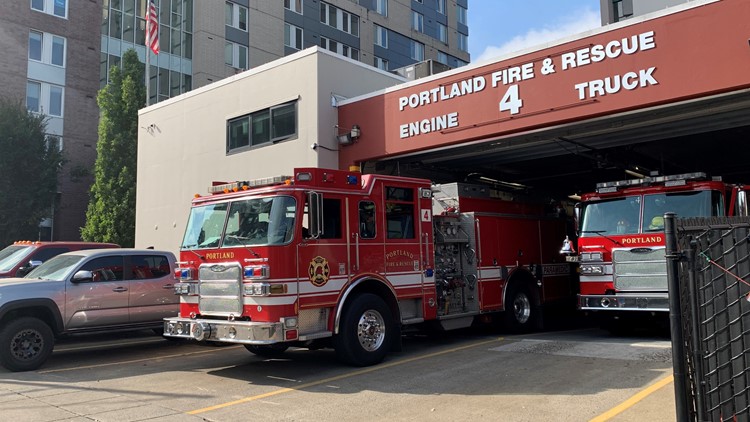 PF&R reassigned a second fire engine as part of a move union officials are calling unprecedented.
PORTLAND, Ore. — A fire engine pulled away from Fire Station 4 in Downtown Portland Monday afternoon. If anything, it was indication it was business as usual, but that was not the case over the weekend.
"One of these days there will be a fire and it'll be dangerous," said a man who lives in the area.
The man was reacting to news of what is considered an unprecedented move by Portland Fire & Rescue. PF&R shut down the fire engine assigned to Fire Station 4.
"That, as a lieutenant, gives me some angst," Lt. Mariya Fuge said.
Lt. Fuge is the vice president of the Portland Firefighters' Association. She says on Saturday the fire bureau had 159 firefighters, down 10 from the standard 169 firefighters. The bureau could not staff the engine that responds to fires in the southern end of Downtown Portland that includes PSU.
"I don't know how many people would like to know there's no water available for their students had something happened at PSU," Lt. Fuge said.
Lt. Fuge says Fire Station 4 was not the only fire house impacted by the staffing crisis over the weekend. She says Fire Station 25 was, too. Its engine was reassigned to cover another part of town.
"We're running that risk that something big is going to happen and we don't have those resources we've always relied on and until Saturday we've always had," Lt. Fuge said.
The union says the staffing shortage experienced over the weekend did not happen over night. Budget cuts, years of hiring freezes, disruptions to training, and the pandemic, among other things, are all to blame.
"It's getting to a place where we need city council to help us, the mayor to help provide some sort of relief," Lt. Fuge said.
Without it, there may be more cases of engine shutdowns like the one this past weekend. Portlanders hope that is not the case.
"First obligation is to protect citizens and fire is one of them," one man said.
KGW reached out to Commissioner Jo Ann Hardesty for a comment. Her office sent the following statement.
"I have consistently advocated for more investments in Portland Fire & Rescue across the board to avoid any interruptions in service. Previous budget cycles included conversations about cuts to the bureau, so I was usually spending more time advocating to prevent cuts to the bureau and stations than finding traction with my colleagues to invest more into the bureau. I also worked with the bureau and union to explore a possible Fire Bond, but our polling showed Portlanders were feeling tax fatigue following recent bond measures and were unlikely to support this at the ballot. Ideally this is something I would still like to bring forward, but we have been looking at other options in this political climate. Recently Council was presented the independent Citygate staffing study I worked with Fire & Rescue to commission, and that provides a data driven roadmap of the future investments we need to make in Portland Fire & Rescue to provide the services Portlanders expect from our growing City. We plan to follow this roadmap and I hope the data driven approach will convince my colleagues to join me in modernizing and investing in Portland Fire & Rescue. One of the top recommendations for addressing staffing issues provided by the Citygate report is to continue expanding Portland Street Response & CHAT (Community Health Assess & Treat) to the benefit of freeing up current firefighters, and that is part of our plan. Help is already on the way. Working with Chief Boone, we authorized lateral recruits for the first time in Fire & Rescue history. The first hires were made this last spring and applications just closed on a second recruitment drive. Even more exciting is that our persistent efforts to find federal grant money for Portland Fire & Rescue recently became a success. Working with our federal delegation in Senator Merkley and Wyden, we were approved for a $2.07 million grant that will allow us to fully reopen and staff Station 23 in Southeast Portland and hire 6 new firefighters."
"While Portland Firefighters appreciate that Commissioner Hardesty says she consistently advocates for Portland Fire & Rescue (PF&R), we are not seeing the successes on the job or in the streets," read a statement from Isaac McLennan, President of IAFF 43. "Firefighter's morale is at an all time low with firefighters being forced to work consecutively up to 90 or more hours a week. We need our leaders to come to the table and listen to firefighters about our ideas to keep Portland safe. Every neighborhood in Portland deserves a fully-staffed fire engine in their fire station with enough firefighters, hose and water to put out fires and rescue people from burning buildings. Lastly, we appreciate City Council's support, including Commissioner Hardesty, to allow Portland Fire & Rescue to apply for the SAFER grant and, after 12 years, finally re-open Station 23 with a fully-staffed fire engine. However, Commissioner Hardesty's office did nothing to help write or file for the SAFER Grant. The fact is that if it were not for the efforts of the Portland Fire Fighters' Association (PFFA) and PF&R Administrators, the grant would not have been written or submitted to FEMA. We have yet to hear from Commissioner Hardesty about her appreciation for the work PFFA performed to help secure that grant and make sure every neighborhood in Portland has a fully staffed fire engine."