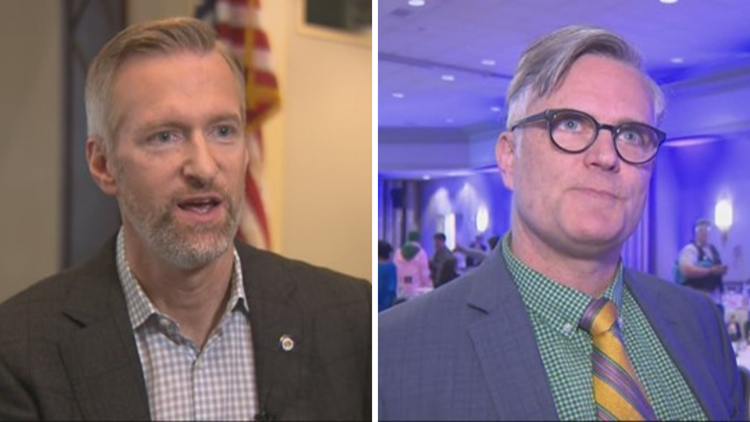 The former Portland Mayor joined current Mayor Ted Wheeler's staff in early 2021. He resigned Tuesday, citing health challenges.
PORTLAND, Ore. — Former Portland Mayor Sam Adams has announced that he will resign from his role as Director of Strategic Innovations for current Mayor Ted Wheeler's office, just under two years after taking the job.
In an email sent to Wheeler's staff Tuesday, Adams cited health-related concerns as the reason for his departure. He said he has been struggling with chronic anemia for the past year, and the loss of energy was impacting his ability to do his job.
He wrote in the email that his condition was improving at one point, but a recent round of test results showed that it had begun to worsen again, prompting him to step down to focus on his recovery.
"I have worked with Sam for many years, and he is a hard worker with a strong vision for Portland. The work he has done during his tenure with my office has helped lead our city in a new direction," Wheeler said in a statement. "My team and I are in a good position to continue moving forward with our ambitious agenda as we enter 2023."
Adams served as mayor for a single term from 2009 to 2012. Shortly after he took office, news broke that he had lied about having a sexual relationship with legislative intern Beau Breedlove. It prompted two failed attempts to recall Adams from office, after which he decided not to run for re-election. 
Wheeler announced Adams' appointment to the role of director of strategic initiatives at the end of January 2021, and said at the time that his priorities would include homelessness, public safety, city cleanliness and economic recovery. 
In his Tuesday email, Adams said the mayor's office had enacted policies with "new and better approaches" toward those problems over the past two years.
Adams was a prominent face in Wheeler's office during his tenure, including authoring a controversial memo that Wheeler's office circulated to other governmental leaders in February 2022, outlining a plan to create 1,000-person homeless shelters and ban unsanctioned camping in the city.
The idea got a frosty reception at the time, although the Portland city council ultimately voted late last year to move forward with a similar concept, albeit with 250-person camps rather than 1,000.