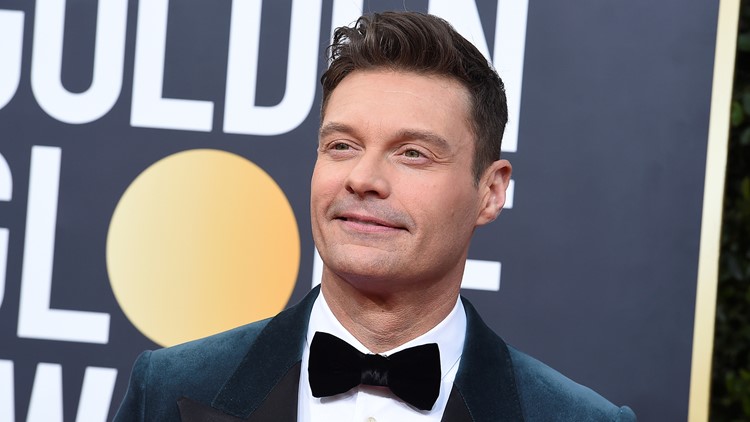 Kelly Ripa's new co-host was also revealed.
WASHINGTON — Ryan Seacrest announced Thursday he'll be leaving "Live with Kelly and Ryan," ending a six-year run as co-host of the daytime talk show.  
Once Seacrest exits, Kelly Ripa will be joined on the show by her husband, Mark Consuelos, and the show will reportedly be rebranded "Live with Kelly and Mark." 
Seacrest shared the news on Thursday's show, saying that this was something they had been talking about "for a long time" and he made the decision last year that this will be his last season as co-host.
"Working alongside Kelly over the past six years has been a dream job and one of the highlights of my career," Seacrest said in a statement shared with Variety. "She has been an amazing partner, friend, and confidant, and although we will always be a part of each other's lives, I will miss our mornings together. I also want to thank Michael Gelman and the entire staff and crew – we've made memories to last a lifetime, met some of the most incredible people and had the warmest welcome into the homes of so many viewers across America. It's been a memorable ride and now I'm excited to pass the baton to Kelly's 'real' husband, Mark."  
Seacrest said he will leave "Live With Kelly and Ryan" this spring as he prepares for the "American Idol" live shows in Los Angeles. But he promised to return to the show to guest host and fill-in as needed. 
Ripa joked that having her husband as her new co-host will be "the nation's weirdest social experiment."  
Ripa has hosted "Live!" since 2001, first with longtime host Regis Philbin and then Michael Strahan. Seacrest joined as her co-host in 2016, originally signing on for a three-year contract. He ultimately stayed for the past six years.
"Goodbyes are never easy, but we look forward to welcoming Ryan back regularly with open arms. As a fan-favorite guest host for years, Mark is no stranger to the 'Live' family. Having him join the show is so special for us and we're sure that viewers will feel the same," Michael Gelman, executive producer of "Live with Kelly and Ryan," said in a statement.
"Live with Kelly and Ryan" on ABC is the No. 1 daytime talk show per household and in total viewership. Ripa has hosted "Live" since 2001, first with Regis Philbin and later with Michael Strahan.
"I'm so grateful to have spent the last six years beside my dear friend of too many decades to count and will miss starting my days with Ryan," said Ripa in a statement. "Ryan's energy, passion and love for entertainment is one-of-a-kind."
The Associated Press contributed to this report.