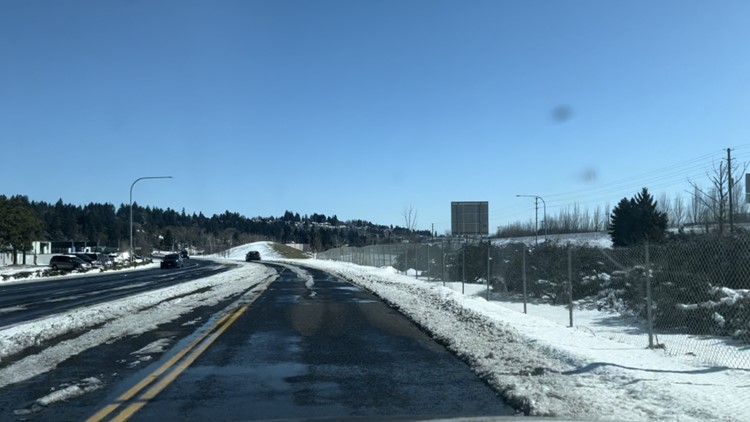 Traffic cameras showed most roads free of new accumulation in Portland Sunday morning, though officials warned to watch for ice. Some areas above 500 feet got snow.
PORTLAND, Ore. — A predicted second wave of snow did materialize for parts of the Portland metro area overnight Sunday, but lower elevations were spared and much of Portland woke up to rain Sunday with little or no new snow on the ground — though officials warned drivers stay alert for slick roads.
A new weather system was predicted to move in from the northwest overnight, and snow could be seen falling on Highway 26 to the west of Portland at around midnight. 
The National Weather Service added hilly areas of the Central Willamette Valley to its Winter Weather Advisory, which expires at 10 a.m. Sunday. The NWS Portland office tweeted at about 3:30 a.m. that snow accumulation had been consistent at areas above 500 feet but spotty below that.
Traffic cameras did show a fresh light dusting on some roads in higher elevation areas on the west side of the metro area, and heavier fresh snow in the coast range, which is under a Winter Storm Warning rather than an advisory until 10 a.m. Sunday. The Cascades are also still under a Winter Storm Warning.
TriMet's website showed buses moving smoothly Sunday morning with no new major service alerts. There didn't appear to be any freeway or major road closures around Portland aside from areas that the Portland Bureau of Transportation had already announced.
Ground temperatures were expected to remain above freezing for most of Portland and the Willamette Valley for the rest of Sunday morning, according to KGW meteorologist Rod Hill. 
Another round of snow is possible Monday, Hill said, due to an ongoing showery pattern and the return of colder east winds, setting up the potential for freezing valley temperatures and snow showers early in the day.