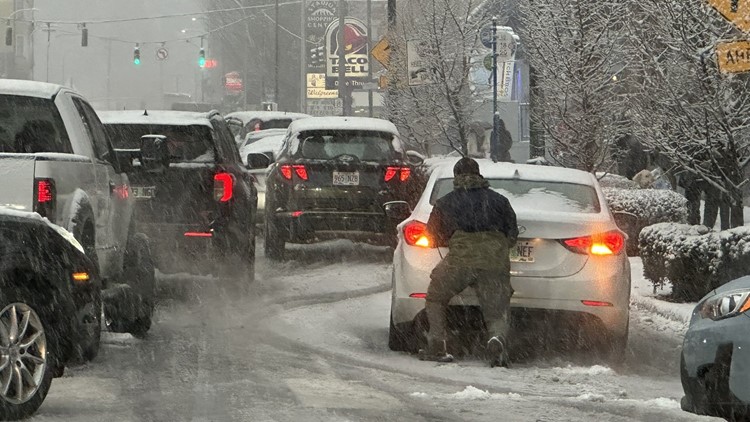 The ramp from I-84 westbound to I-5 near the Moda Center is closed due to slick, icy conditions. Many Portland roads are experiencing backups from snow and slush.
PORTLAND, Ore. — As the evening commute got underway throughout the Portland metro area Wednesday evening, a day's worth of snow showers and wet snow on the ground contributed to delays and gridlock on nearly every route through the city.
From Vancouver south nearly to Tigard, the Oregon Department of Transportation's TripCheck map was a mass of red and orange lines showing slowdowns, particularly along I-5, I-205, I-84 and Highway 26, and especially within Portland city limits.
The ramp from I-84 westbound to I-5 near the Moda Center was closed due to slick, icy conditions.
Within the space of about an hour, ODOT put out a flurry of alerts about reported crashes and stalled or disabled vehicles on all of the local interstates.
"The traveling public should delay travel, plan to use public transit and use extreme caution as additional snow and freezing temperatures are expected," the agency said in a statement.
Portland got about 2 inches of west snow, at least in some areas, and the city said that the National Weather Service had advised them of a 40% to 70% chance of 2 more inches overnight, amid temperatures below freezing.
KGW crews again and again witnessed cars spinning their wheels on West Burnside near Providence Park. Signs posted recommended chains or traction devices for anyone driving up West Burnside headed towards the West Hills. 
Multnomah County closed Northeast 238th Drive from Southwest Cherry Park Road to Northeast Halsey Street due to icy conditions. Buxton Road was also closed, along with Southwest 257th from the Historic Columbia River Highway to Southwest Cherry Park Road.
County officials advised that people avoid Northwest Germantown Road, Northwest Newberry Road and Rocky Point Road, but there were no closures in that area as of 5 p.m.
"Right now east Multnomah County roads are more of an issue than the county's west side roads," officials said in a statement. "Any county roads that are exposed to the cold gorge air overnight will be more susceptible to ice."
Multnomah County Transportation said it has 24-hour road coverage for this storm event, with crews are plowing and putting down sand "where it's necessary." 
Roads staff warned it could be a dangerous morning commute after a coming overnight freeze. Areas east of I-205 were expected to see the most overnight snow, along with taking the brunt of cold east winds.
Public transit
TriMet was also struggling with a number of service impacts across the Portland area due to winter weather.
As of 6 p.m., TriMet said that the MAX Green, Orange and Yellow lines were disrupted through downtown Portland due to slow, heavy traffic. The slowdown had resulted in some changes as the agency tried to adjust:
The MAX Green line was serving downtown on Blue and Red line tracks.
MAX Orange line was serving from Southeast Park Avenue to PSU South/Southwest 5th and Jackson Street.
MAX Yellow line was serving from the Expo Center to Interstate/Rose Quarter.
"Since our last update, we have started to chain up all of the buses in our fleet due to slick road conditions," TriMet said. "Buses with chains can travel no faster than 25 miles per hour. We thank our riders for their patience as we make this adjustment for safety."
Several bus lines were canceled, while others were detouring around areas with deteriorating road conditions. Riders were asked to consult TriMet's alerts page for the most recent information.
Due to a state of emergency issued by Multnomah County, TriMet said it would not turn away anyone from traveling to or from a warm place who would be otherwise unable to pay fare, lasting from 6 p.m. Wednesday evening through 10 a.m. Saturday.
"Please let your bus driver know that you're heading to or from a warming shelter or space," the agency said. "Riders should plan extra time for their trips. Bundle up and be very careful going to and from stop stations, as sidewalks, stairs and surfaces across our region become slick. Stay warm, take care and be careful out there!"
This is a developing story and will be updated with more details as they emerge.