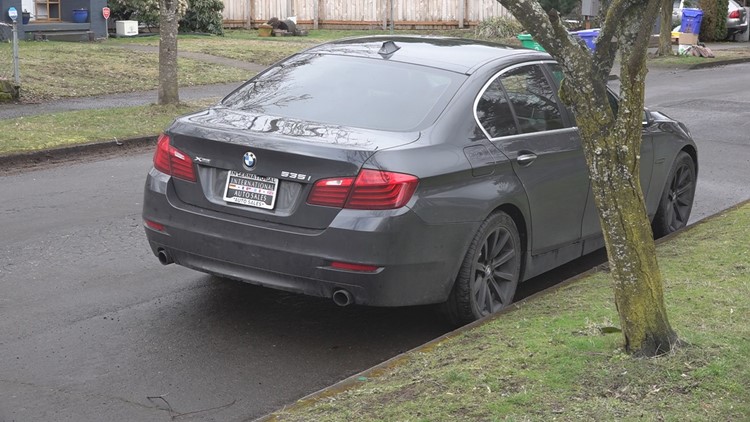 A Portland man is taking some extra precautions after his car was stolen from outside his apartment in the Pearl District.
PORTLAND, Ore. — A Portland man who had his BMW stolen outside of his apartment in the Pearl District said a GPS tracking device helped him find his car before police could. 
Jonah Herman woke up last Wednesday morning and couldn't find his keys. He said he thinks someone snatched them the day before while he was going into his building. 
He had an Apple AirTag tracker on his keys and saw it pinging just a mile away from his apartment. He also has a tracking system for his car called "Elo GPS."
"I looked on the GPS and saw that my car was about where my keys were and I said, 'Oh my gosh, my car has been stolen,'" Herman said.
He called the police to report the crime but they did not respond right away. He decided to take matters into his own hands by going to 11th and Washington, where the GPS tracker led him to his car. The GPS also showed that the thieves had taken a joyride in the car before parking it.
Herman arrived to find that the thieves had removed his license plates as well.
"I was able to recover my car before the police called me back," Herman said. "At the time they called me back my car could have been one hundred other places."
With all the crime in Portland, Herman is glad he beefed up on tracking technology.
"If we know there's not enough resources and not enough officers to help people, we have to be part of that change as a community," Herman said. 
This is not the first time Herman had a car stolen. He said that a couple of years ago, his Honda was taken outside of a store.