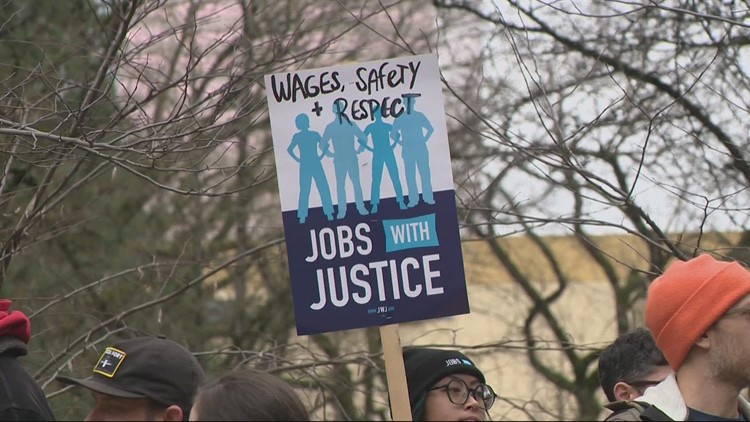 Portland workers represented by Laborers' Local 483 plan to strike as planned after no agreement was reached during a mediation session Wednesday.
PORTLAND, Ore. — Hundreds of members of Laborers International Union of North America Local 483 are moving forward with plans to strike at midnight Thursday after no agreement was reached with the City of Portland during Wednesday's mediation session, according to city officials. 
The city said it's moving forward with contingency plans, and will share details on potential impacts Thursday. The state of emergency declaration issued last Thursday by Portland Mayor Ted Wheeler allows the city to hire or re-allocate staff to ensure "continuity of services" as the workers go on strike. 
Negotiations between union representatives and the city have gone on for about 10 months, the union said. They represent workers in Portland's wastewater treatment, pollution testing, street maintenance and park ranger services. 
"They are the workers who showed up, in person, throughout the pandemic to keep our City running," the union said in a statement. "They delayed negotiating a new contract for a year to accommodate the City of Portland in its time of need. In response, City decision makers have treated their safety and financial security as a low priority." 
"It's going to be a huge challenge for the city to find people that can replicate the work our folks do," said James O'Laughlen, a former wastewater operator who's now working as a field representative for the union. "Things break, all the catastrophic failures that we face routinely that get addressed, they're not going to be fixed. Sewer lines, pump stations, city infrastructure, crises in the parks."  
"We're here to show the city — that if they want to be an employer of choice — then they have to bring the money," said one of the speakers to a crowd holding signs. "They have not accounted for inflation. They have not accounted for cost of living. They have not accounted for how every single person's job has changed."
The city said it is offering a 12% wage increase by July, with half of that retroactive to 2022. The increase includes a 5% cost-of-living increase for each year. 
However, the union wants the city to remove the annual cap of 5% for cost-of-living increases. 
"We're looking for increased pay, and some other increased benefits," said Scott Morris, who works for Portland Parks and Recreation as a carpenter.
"Citywide planning efforts are being finalized and critical operational needs, personnel coverage, resources, and contingency plans have been identified with to ensure essential services that Portlanders rely on everyday are minimally disrupted for the duration of a strike," the city said in a statement Wednesday. "More details on the city service levels Portlanders can expect during the workforce disruption are expected to be announced on Thursday."
This is a developing story and will be updated as more information becomes available.