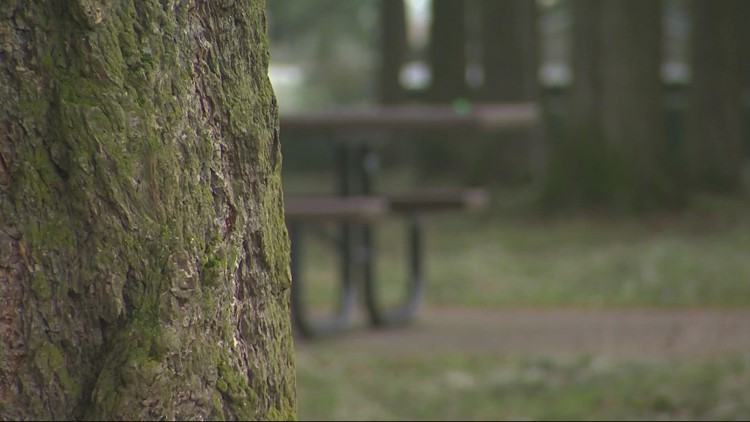 The attack happened on Jan. 19 at Pat Pfeifer Park. Police said at the time that the victim fought off her attacker, now identified as Angel Mendez, 22.
GRESHAM, Ore. — Gresham police have arrested the suspect in an attempted sexual assault that happened in January at a local park. Court records indicate that this is the man's second alleged sexual assault in less than a year.
Shortly after noon on Jan. 19, police said that a woman was in Pat Pfeifer Park near Northeast 172nd and Burnside when a man attacked her. The victim managed to fight the man off, then escaped the park and tried to call police.
The woman's call was routed through a non-emergency line, so it took 90 minutes before she was able to reach someone and make a report. By the time police responded, the suspect was nowhere to be found.
Police described the suspect as a Latino man in his 30s, wearing a beige or pink hood sweatshirt and blue jeans around the time of the attack. Investigators later released two surveillance video screenshots of the suspect and asked for the public's assistance to identify him.
According to the Gresham Police Department, the photos helped bring in a number of tips. Detectives were able to identify the suspect as 22-year-old Angel Mendez Jr. of Gresham.
On Thursday evening, police arrested Mendez on Northeast 168th Avenue near Burnside. He was booked into the Multnomah County Jail on charges of first-degree sex abuse, coercion, public indecency, harassment and an "unrelated warrant."
As it turns out, that warrant was for a prior sex abuse case. In August of 2022, Mendez was accused of groping two women. Following his arrest, Mendez was allowed out on supervised release, but court documents indicate that he stopped checking in with pretrial services almost immediately, violating the terms of his release. The court issued a warrant for his arrest in November, but he was not taken into custody until this week, after the park attack.
Mendez's listed address in court documents from the August case lines up with the location of his arrest this week — just a few blocks from Pat Pfeifer Park.
In its statement on Friday, Gresham police issued a "thank you" to the public for helping identify the suspect in the park attack case.
"Our greatest public safety tool is the assistance we get from the public," said Detective Kerbs, lead investigator on the case.