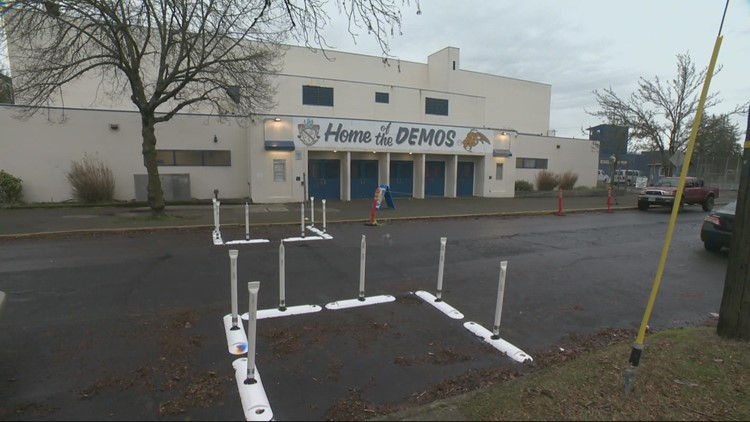 The city will study the impact of the barriers and remove them if they're no longer needed.
PORTLAND, Oregon — The city of Portland and Portland Public Schools are trying something new in the hope of curbing gun violence.
The Portland Bureau of Transportation teamed up with the city's Community Safety Division to install new traffic barriers near Jefferson High School in north Portland. 
The barriers are placed along North Commercial Avenue between Killingsworth and Alberta. The barriers form "chokepoints," forcing just one car to pass through at a time. 
PPS asked for the barriers to address recent gun violence near the school. Last fall, police responded to two shootings near Jefferson that left two students injured.
"These street improvements are a step towards centering the safety of Jefferson students and community," said PPS Superintendent Guadalupe Guerrero. 
"I'm grateful that the Portland Bureau of Transportation listened to our students and worked with us to develop a solution that helps address a community need."
Neighbor Tom Cramer lives near the high school and said he's always upset when he hears gunfire. He's glad to see the barriers.
"I think anything we need to do to reduce gun violence is a good thing," said Cramer. "I think it makes a lot of sense."
Gun violence near schools is not unique to north Portland. In December, police responded to a shooting outside Cleveland High School in Southeast Portland that left a teen injured. And this isn't the first time the city has tried traffic-calming methods to curb gun violence. 
In October, 2021, PBOT installed several orange barrels in the Mount Scott-Arleta neighborhood in SE Portland. They hoped they would slow down cars that may have been involved in a crime.
Back at Jefferson High, Kenny Montague appreciates the effort to slow down traffic. His two sons attend Jefferson and said he's been waiting a while to see safety improvements around the school.
"I see they trimmed the trees, too," said Montague. "Before the trees weren't trimmed so it was very, very dark. There wasn't lights over here so they are trying to change some things… I know parents, coaches, we've all been out here doing our very best to do what we can."
The city said the installations are temporary and they plan to study how they work. If they're no longer needed, they will remove them.
"The safety of Portland youth, whether from traffic violence or gun violence, is paramount," said Transportation Director Chris Warner. "PBOT was happy to lend our support to create a safer street adjacent to Jefferson High School."