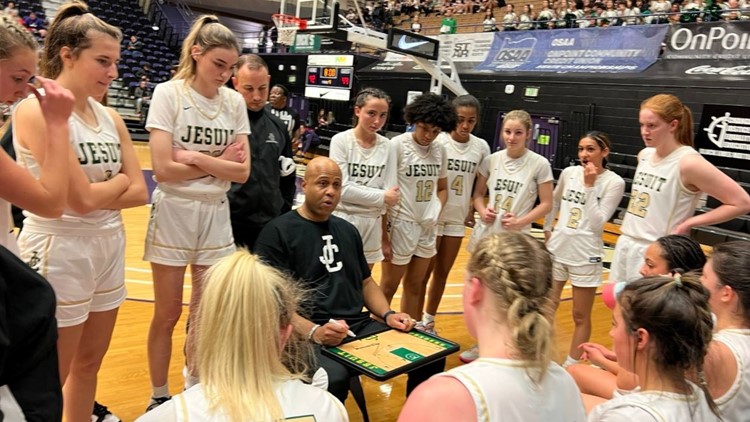 In 6A girls, Jesuit, Clackamas, Barlow and South Medford advanced to the semifinals. In 5A boys, Wilsonville, Crescent Valley, Summit and Redmond advanced.
PORTLAND, Ore. — The Oregon state high school basketball playoffs have entered the closing stretch with championship games set for Saturday. Here's a look at what happened in the 6A girls and 5A boys quarterfinals on Wednesday.
6A girls quarterfinals
All games played at Chiles Center at the University of Portland
Jesuit 58, Willamette 55: Top seed Jesuit avoided an upset and advanced to the semifinals when Emma Sixta beat the buzzer with a 3-pointer to win the game. University of Oregon commit Sofia Bell led Jesuit with 25 points and seven rebounds and Sixta added 13 points. Willamette was led by Isabella Harms, who scored 25 points. Brynn Smith added 14 and Victoria Nguyen had 11. Jesuit rallied from a 32-26 deficit at halftime.
Clackamas 67, Beaverton 42: Jazzy Davidson had 16 points, five assists and four rebounds as Clackamas beat Beaverton to advance to the semifinals. Sara Barhoum added 18 points and Eliza Buerk had 10 points and five rebounds for Clackamas. Madison Naro had 11 points and five rebounds and Zoe Borter scored 14 points for Beaverton.
Barlow 37, Tualatin 32: Sixth-seeded Barlow pulled off the upset against third-seed Tualatin behind 16 points from Annie Koenig, who hit four of Barlow's five 3-pointers. Barlow led at 10 at halftime, but Tualatin erased most of that deficit with an 11-2 edge in the third quarter. Tualatin took a 30-28 lead with 5:29 left in the game but Barlow ended the game on a 9-2 to hold on for the win. Tualatin was led by Tabi Searle, who had 10 points and six rebounds, and Olivia Poulivaati, who just missed a double-double with nine points and 10 rebounds.
South Medford 65, West Salem 35: Oregon State commit Donovyn Hunter had 20 points, five rebounds and three assists to lead No. 2 seed South Medford to the big win against 10th-seeded West Salem. Taylor Young added 16 points for South Medford, which held West Salem to 31.6% shooting. Madelyn Diaz scored 14 points to lead West Salem.
Friday at Chiles Center at the University of Portland

(1) Jesuit vs. (5) Clackamas, 1:30 p.m.
(2) South Medford vs. (6) Barlow, 3:15 p.m.
5A boys quarterfinals
All games played at Gill Coliseum at Oregon State University
Wilsonville 46, Woodburn 26: Kyle Counts had 16 points and 16 rebounds to lead third-seeded Wilsonville past Woodburn and into the semifinals. Counts also had three assists, three blocks and two steals. Kallen Gutridge added 12 points and six rebounds and Maxim Wu scored 11 points for Wilsonville. Cruz Veliz had nine points and Spencer Carsseboom grabbed 10 rebounds to lead Woodburn, which shot just 17.8% from the field.
Crescent Valley 46, La Salle Prep 42: No. 15 seed Crescent Valley upset another higher seed, beating No. 7 seed La Salle Prep to advance to the semifinals. Rocco McClave led the way for Crescent Valley with 21 points and six rebounds. Adam Temesgen added 12 points and Heath Carl had eight points and eight rebounds. La Salle Prep was led by Finbar O'Brien, who had a triple double with 11 points and 11 rebounds. Nick Robertson had nine points and Grant Ellison grabbed 10 rebounds for La Salle Prep.
Other scores: Top-seed Summit beat North Eugene 75-53; Redmond beat Mountain View 62-49.
Thursday at Gill Coliseum at Oregon State University
(1) Summit vs. (4) Redmond, 6:30 p.m.
(3) Wilsonville vs. (15) Crescent Valley, 8:15 p.m.