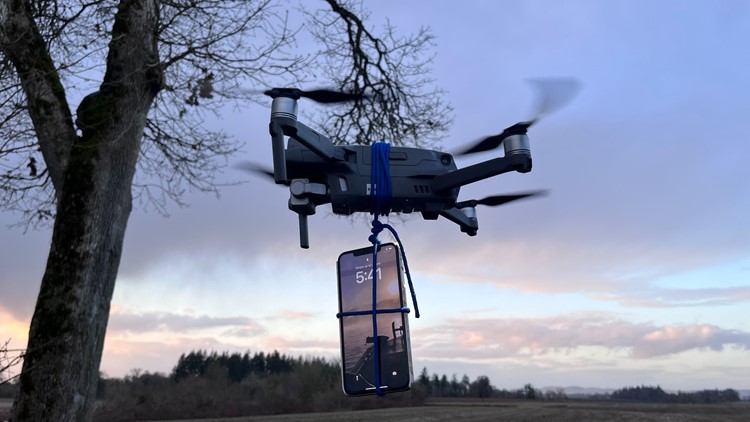 He attached his cellphone to a drone, hit send on a text with his location, and launched the drone high enough for his phone to connect to service and send the text.
LANE COUNTY, Ore. — A driver used some quick thinking to help alert rescuers to his location after he got stuck in the snow on a remote road in Willamette National Forest, the Lane County Sheriff's Search and Rescue reported.
After the man got stuck in the snow, he realized he didn't have cell service. He also knew nobody would call the authorities when he didn't come home because his family was out of the country and he hadn't told anyone else where he was going when he left.
Stranded with no obvious way out, the man came up with a plan on how to alert rescuers to his situation. He attached his cellphone to a drone he had in his vehicle. He typed out a text on his phone to a friend describing what had happened and his exact location. Then he hit send on the text and launched the drone several hundred feet into the air. That high up, the phone was able to connect to service and send the text.
The man's friend received the text, reached out to authorities and rescue crews were able to locate the man and rescue him. During the rescue trip, crews also found and rescued another driver who'd been stranded nearby in the snow for multiple days.
"We are happy with the outcome of this call for service, and impressed with the creativity displayed to call for help," the sheriff's office said in its Facebook post.
The sheriff's office shared these tips on how to stay safe while traveling in winter weather:
Forest roads are not maintained for winter travel. Any attempt to travel on unmaintained snow or ice-covered roads (no matter how much or little) should only be made with a group of well-equipped vehicles. If one vehicle becomes stuck, the other vehicles can attempt to free the stuck vehicle or can turn around and be used to drive everyone back to safety.
Always tell a responsible person EXACTLY where you are going, and when you expect to be back. Do not deviate from this plan. If a road becomes unpassable, turn around and go back the way you came, do not attempt a detour without first updating your plan with your emergency contact.
Of the dozens of missions we have had this winter involving a vehicle stuck in the snow, nearly all of them were 4×4 vehicles and almost all of the drivers told us, "I didn't think I would get stuck." Instead of asking yourself whether you think you can get through a section of road, ask yourself, "what will happen if I do get stuck?" If you (and the group of other vehicles you are traveling with) are not prepared to deal with any of the possible outcomes from an attempt, turn around and go back the way you came.