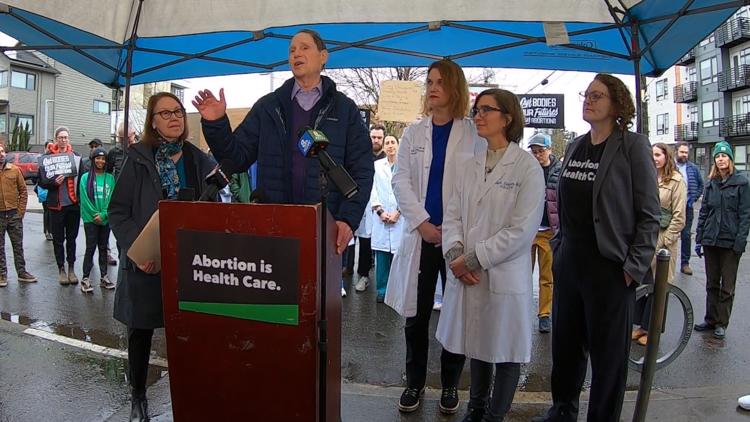 Sen. Ron Wyden and Attorney General Ellen Rosenblum spoke out against against a federal lawsuit that aims to end the distribution of mifepristone.
PORTLAND, Ore. — Oregon Democratic Sen. Ron Wyden and Attorney General Ellen Rosenblum joined health care professionals and abortion advocates on Sunday to speak out against a federal lawsuit, that aims to end the distribution of mifepristone, an abortion medication. 
"A key piece of reproductive freedom could be stripped away from all Americans, even here in our state — the state with some of the nation's strongest reproductive justice protections," Wyden said during a news conference conference in Southeast Portland. 
This weekend, the Washington Post first reported that the Trump-appointed U.S. District Court judge presiding over the case scheduled the first hearing in Amarillo, Texas for this upcoming Wednesday, but took steps to keep it from being publicized.

"Between this moment, on a rainy Sunday afternoon here in Portland, and Wednesday's hearing in Texas, we are going to make sure that everybody in America understands just how destructive the solitary judges actions would be," Wyden said. 
"Taking [mifepristone] off the market would significantly compromise abortion access all across the country, including in places like Oregon, California, New York and other states that have secured abortion access all these 50 years," Rosenblum said. 
Both leaders said they're planning to take specific steps to fight back, should access to the drug be cut off by the judge.
"I have asked formally, we've discussed it with the Biden administration, that the Biden administration ignore a ruling from this judge in Texas," Wyden said. 
Oregon's attorney general is prepared to move forward with legal action, alongside other attorneys general. Meantime, doctors, nurses and other healthcare workers in attendance vowed to continue providing access to abortion services.