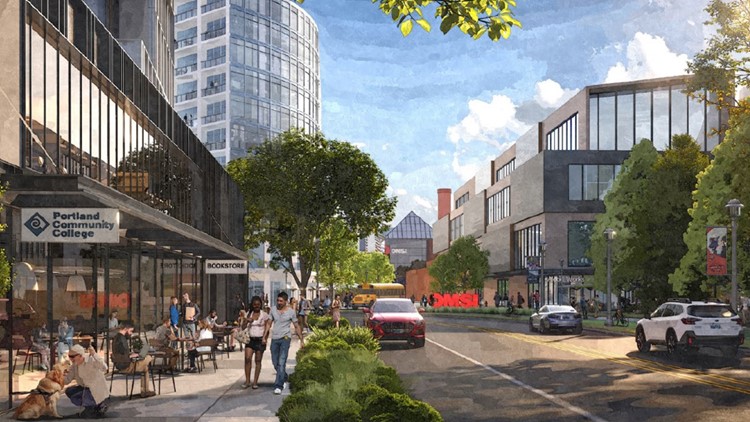 OMSI wants to overhaul industrial space around the museum, turning it into a modern neighborhood. Portland's design commission just signed off on the master plan.
PORTLAND, Ore. — A proposed $120 million effort to entirely reshape the area around OMSI's waterfront campus into a modern mixed-use pocket neighborhood just took a big step toward fruition, with Portland's design commission giving its seal of approval for the master plan.
"We want this to feel like a welcoming place for everyone," OMSI president and CEO Erin Graham said of the project. "From the very beginning of this project, community input has been so important to developing the vision and now developing the principles."
With the master plan approved, Graham said OMSI is looking forward to taking more community input as the project goes ahead.
The "OMSI District" would develop industrial space around the museum, transforming the area into 34 acres of housing, retail and education space.
"We anticipate more than 7,000 jobs being created during the construction period, and more than that when the entire district is fully built out," Graham said.
Right now, none of the specific buildings in the OMSI district have been designed. The master plan approved by Portland's design commission is much higher-level than that, simply laying out how the different tracts of land will be laid out.
"And there could be some of them one building and on some of them at least two or more buildings, depending, because some of the tracts are quite large," Graham added.
The district area is equivalent to about 10 city blocks. Tract C, just north of Tilikum Crossing, would have a public plaza with esplanade and greenway improvements, created with help from local tribal governments and Indigenous communities.
"Our hope is that this really becomes a very walkable, friendly, inviting neighborhood and that we can host cultural events, science fairs and all sorts of things on that plaza," Graham said.
Included in the master plan are 1,200 units of new housing, with a minimum of 20% reserved for low-income families.
"We are approaching that with a lot of intention, and we will have a lot more opportunities for people to engage with us about what they'd like to see here," Graham said.