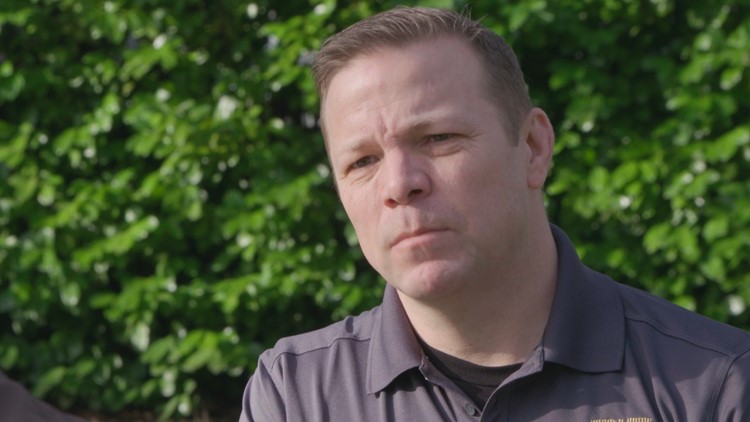 Brian Hunzeker was fired after an investigation found that he helped leak information falsely identifying then-Commissioner Jo Ann Hardesty as a hit-and-run suspect.
PORTLAND, Ore. — A Portland police officer who was fired last year for his role in the leak of a police report that falsely identified then-Commissioner Jo Ann Hardesty as a hit-and-run suspect has been reinstated, according to the Portland Police Association.
In a news release Thursday, the union stated that an arbitrator appointed by the State labor board had reviewed the case and reinstated Brian Hunzeker, concluding that his actions did not rise to a level that justified termination. The arbitrator imposed a one-week unpaid suspension for the incident, according to the union.
"While I stand behind my decision in this case, I respect the legal process," Portland Mayor Ted Wheeler said in a statement Thursday. Wheeler, who also serves as Police Commissioner, fired Hunzeker in February 2022.
"Meaningful accountability can take many forms, even when it may not look exactly the way we initially envisioned it," Wheeler added. "It is my sincere hope that we can all come together and find ways to bring healing for the harm caused and unity in ensuring it never happens again."
Hardesty did not immediately respond to a request for comment.
Reached by phone Thursday, Hunzeker said "just stop, just stop, leave me alone," and then hung up on KGW.
The incident began on March 3, 2021 when a woman called 911 to report a hit-and-run crash and identified the other driver as Hardesty. The caller was mistaken — a police investigation ruled out Hardesty the next day — but part of an initial police report mentioning Hardesty was later leaked to the media.
Hunzeker abruptly resigned from his position as president of the union about two weeks later for what the union's executive board described in a statement as a "serious, isolated mistake" related to the investigation into the hit-and-run allegation against Hardesty, although it did not specify the mistake.
Wheeler, who also serves as Portland's Police Commissioner, fired Hunzeker in February 2022 after the conclusion of an investigation into the incident.
At the time, Wheeler said Hunzeker copied a confidential record using his phone and sent it to a media outlet without authorization, calling his actions both a violation of policy and "retaliation against a democratically elected member of the City Council due to her criticisms of the police bureau."
Hardesty denounced the leak as a smear tactic and a deliberate act of political retaliation against her. She later sued the police union, Hunzeker and two other officers in December after an internal affairs investigation concluded that the three of them had been involved in the leak.
Hardesty lost her reelection bid last year to challenger Rene Gonzalez, who took office last month.