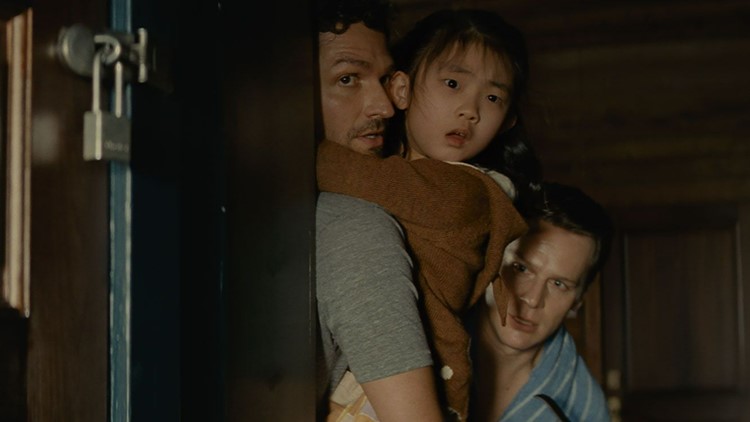 Filmmaker M. Night Shyamalan and stars Jonathan Groff and Ben Aldridge talk to KING 5's Evening about the horror movie.
NEW YORK CITY, N.Y. — The question asked by "Knock At The Cabin" is chilling: would you sacrifice someone to save the rest of humanity?
The new thriller by M. Night Shyamalan (based on a best-selling novel) tells the tale of a relaxing family vacation in a remote cabin, violently interrupted by four armed strangers.
A little girl and her parents, played by Jonathan Groff and Ben Aldridge, are instructed to do the unthinkable: willingly sacrifice one family member to prevent the apocalypse.
The majority of the film is based in and around the Pennsylvania cabin, but one frightening scene is set in Cannon Beach, Oregon.
Dave Bautista, Rupert Grint, Abby Quinn, and Nikki Amuka-Bird star as the invaders.
Entertainment reporter Kim Holcomb talked to Shyamalan, Groff, and Aldridge about the film.
HOLCOMB: "What breathing techniques would you recommend to help us get through this film?"
GROFF: (laughing) "Great question."
ALDRIDGE: "I needed breathing techniques just to get through making it, just some good deep breaths. I would find myself shallow breathing in those scenes all the time, and then on cut I'd be like, 'Okay, come back.'"
HOLCOMB: "How would you say this film reflects where you are in your life right now?"
SHYAMALAN: "You can tell when you watch the movie I'm in kind of a philosophical place. And then the thing that we're all going through as a group… we have to stop tribalism and it's so baked into us. So as I see this struggle happening of letting go of tribalism to find larger answers, that's on my mind. And then, the thing I feel deeply that's I've felt since I was a kid — I believe in each other, I believe in everybody. Even when they hurt you, I believe in that."
HOLCOMB: "Dave Bautista is banging on your door in real life. What do you do?"
ALDRIDGE: "Invite him in for a cup of tea."
GROFF: "Yes. Put on some gentle jazz. Get a nice bottle of red… He's such a soulful, gentle person."
HOLCOMB: "What would you do between scenes to sort of de-escalate emotionally? Tell me the funny stuff that happened in that cabin, please."
GROFF: "There was a lot of laughter, a lot of messing around. Not really inside the cabin but outside."
ALDRIDGE: "There was some Irish dancing that happened. Oh my god yes. Abby (Quinn) is a very limber performer yoga-wise and athletics."
GROFF: "So did you! You gave Irish dance."
ALDRIDGE: "In between all that intensity, we made sure to hold onto reality."
HOLCOMB: "Some people have called this film very dark. Do you agree with that?"
SHYAMALAN: "I've found that because I'm such an optimist, because I'm such an emotional guy, the only way anyone can tolerate my storytelling is if I get into the genre. Because I equally love scaring you and making you uncomfortable. So, that balance of the two is critical. It is very dark, but it's very light at the same time. It allows more light to come in."
"Knock At The Cabin" is rated R and opens in theaters Feb. 3.