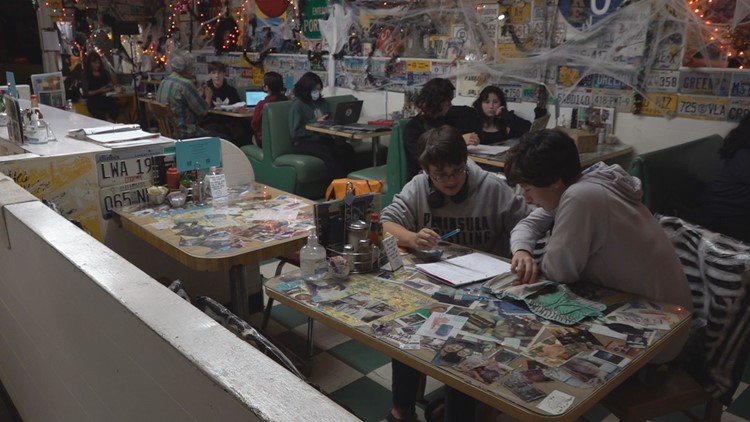 After hours on Wednesdays at Fat City Café become a high school study spot for peer tutoring.
PORTLAND, Ore — It almost goes without saying: it's been a very tough couple of years for students on every level, dealing with remote learning and other challenges during the COVID-19 pandemic. 
Every Wednesday night high schoolers from around the area are encouraged to stop by to get help or to tutor other students.
"Being a teenager is hard," said Joe, "And I've been a professional educator for 38 years, mostly working with teenagers and one of the things I've noticed is that it seems to get harder to be a teenager every generation."
"I think that our teens are suffering, emotionally and academically from COVID and from just a lot of things going on in the world," said Amy, "this is kind of helping them wade back into the water of regular academic school."
Joe tackles math and science, while Amy focuses on English, writing, and social studies. Their ultimate goal for the Learning Café is to provide a safe space for peer tutoring. 
"I'm the man with the key. I open the door and the kids make it happen," Joe said. "They're not stressed out. They're not anxious. There's no judgment here — there's just learning.
"The kids come here, who are in crisis in a class, and in no time they are out of crisis. It's very easy to talk about the kids who get the help, but I think it's actually the kids giving the help that are benefiting just as much," Joe added.
Jesse Mitchell-Reiss a senior at Ida B. Wells High School tutors fellow students in math.
"I think that there's a real sense of collaboration," he said. "Everybody's kind of here to learn, which is a really unique and productive environment to do tutoring in. And, you have a bunch of different people who can help bring different perspectives because not everybody learns the same."
 For now, they can accommodate about 24 students inside the building.