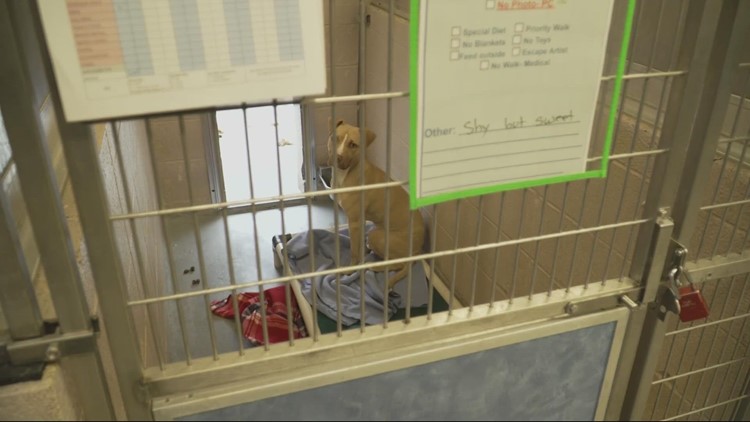 The county's animal services has faced public scrutiny after former employees and current volunteers said animals were being neglected.
PORTLAND, Ore. — Multnomah County Animal Services will undergo a five-month review of its current practices, at the request of Multnomah County Chair Jessica Vega Pederson. 
The review will take place in three phases throughout a five-month period. 
The first phase will look over previous reports and audits over the last six years and identify gaps and needs in the shelter. 
The second phase will give the animal services division time to engage and get feedback from key stakeholders, staff, volunteers and the community about the changes they'd like to see. 
"I want to acknowledge that they have been seeing things that have been concerning to them for years," said Vega Pederson in an online meeting Wednesday morning. "And so I understand if there is a lack of trust in terms of what they would like to see and the ability of Multnomah county services to deliver on that." 
The final phase will provide a summary and report-out of the review's findings and a work plan for implementing identified recommendations. At the conclusion of this phase, the Multnomah County Board of County Commissioners will receive a briefing on the results of the review and the next steps going forward.
The shelter has a history of falling below national standards for basic care, like keeping kennels clean, the animals fed and access to exercise and mental stimulation. Those findings were noted in two county audits from 2016 and 2018.
The audit pinned many of the hurdles on a staffing shortage. 
"There's a commitment by me," said Vega Pederson. "And there's a commitment by the team in this new leadership at animal services that we are going to be making those changes." 
There are hundreds of vacancies for veterinarians and CVTs across the Portland region. Animal Services currently has 12 vacant staff positions, and filling these will continue to be a priority, along with addressing other infrastructure and operations issues.
But even with that, the shelter still believes they're giving animals the proper care they need despite these allegations. 
"The animals are getting adequate medical care," said Multnomah County Animal Services Director Erin Grahek . "We have Dr. Romney here three days a week and recently added two more veterinarians to take on shifts for relief veterinarians." 
Leadership at Animal Services has recently increased temporary staff at the shelter, coordinated with other county departments to support volunteer management best practices and began developing pathway plans for each animal at intake to ensure best placement and outcomes as soon as possible.