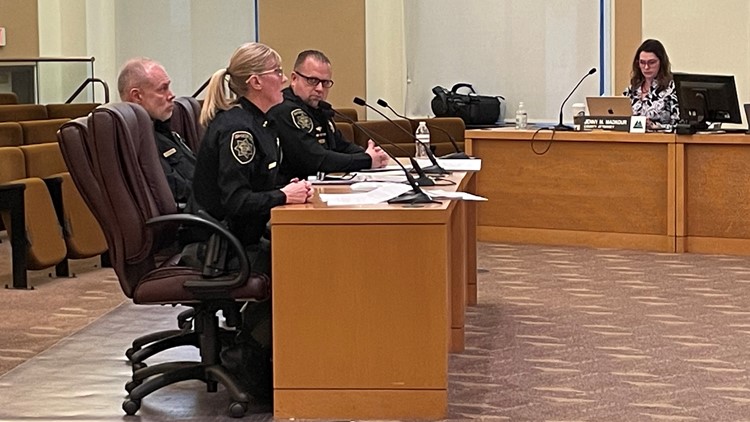 Sheriff Nicole Morrisey O'Donnell hopes to launch the program in late 2023. All deputies in the agency could be wearing cameras by the end of 2024.
PORTLAND, Ore. — Multnomah County Sheriff Nicole Morrisey O'Donnell spent Tuesday morning sitting in front of the Board of County Commissioners explaining why she and her leadership team plan to launch a body camera pilot program later this year.
"Body-worn cameras can improve multiple areas including strengthening police accountability by documenting incidents and contacts between deputies and our community and creating a visual and audio record and resolving deputy-involved incidents and potential complaints," said Morrisey O'Donnell.
Body cameras can also improve agency transparency and evidence documentation, Morrisey O'Donnell said, but not everybody is sold — at least yet. Commissioner Susheela Jayapal is skeptical about the cameras.
"We have seen very clearly the wearing of body cameras has not stopped some truly, um, I don't have a word to describe it, but you know what I'm talking about, it hasn't changed behavior," said Jayapal.
Morrisey O'Donnell said while the policy could very well change, as of right now she intends to allow her deputies to review the video before writing reports or giving statements on all incidents, including critical incidents like police shootings.
"The accuracy of reports, the member statements, along with other documentation, is essential in any incident to receive and maintain the most accurate account of the events and to provide statements that are as complete as possible," Morrisey O'Donnell said.
The ACLU argues that allowing officers to view body camera video is poor investigative practice, undermines the legitimacy of investigations, and might even enable lying.
This partly explains why the City of Portland and the police union have declared an impasse when it comes to body-worn cameras for the Portland Police Bureau. The city wants to allow the viewing of video with conditions, but the union is calling for officers to view video after all incidents, much like the plan in Multnomah County.
"I don't want to comment today on the process Portland is going through with the city and their arbitration," Morrisey O'Donnell said.
Morrisey O'Donnell said she is eager to bring body cameras to her department. And is not alone.
"Our deputies have expressed they want to move forward with this technology and enhance transparency and accountability," Morrisey O'Donnell said.
She hopes to launch the pilot program in late 2023. The review of the pilot program would come in the spring of 2024, and all deputies in the agency could be wearing cameras by the end of 2024.