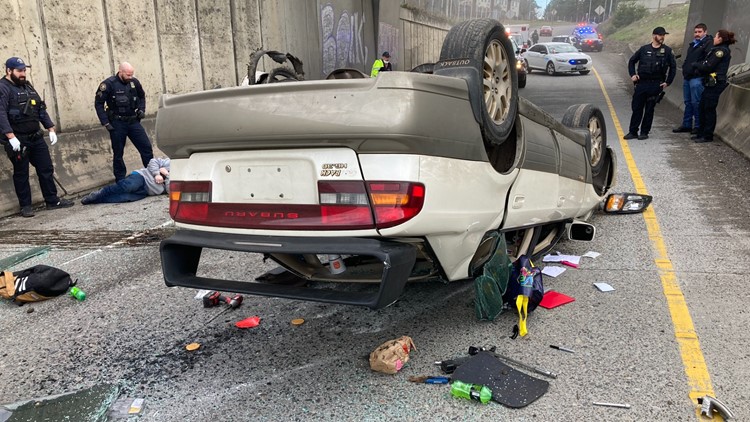 Police report the drivers of three stolen vehicles were arrested and two guns were seized in separate busts in less than 24 hours.
PORTLAND, Ore. — Three people were arrested driving stolen vehicles after leading officers in East Precinct on pursuits on Saturday afternoon and Sunday morning, police said.
Officers pursued a vehicle in the area of Southeast 122nd and Ash Street around 3:30 p.m. on Saturday. The driver was reportedly reckless and speeding. Police say they followed from a distance, trying to use intervention techniques.
The driver and passenger were taken to the hospital with injuries. The driver is charged with unauthorized use of a motor vehicle, felony elude and multiple other charges.
Later in the afternoon, another stolen vehicle was tracked near Interstate 205 and Holgate Boulevard where police say three people got out of the car and ran from officers, tossing behind a gun with an extended magazine and the serial number scratched off.
The driver is facing charges of unauthorized use of a motor vehicle, eluding and possibly additional felonies.
Investigators said the suspects were able to start the car using a USB cable after exposing the ignition.
Police said another driver went over 100 mph and ended up in Gresham where the suspect was found hiding in a yard along with a stash of fentanyl pills.
Police also released video of a gun with the serial numbers destroyed that was found in a stolen vehicle with the help of a K9.
KGW has reached out to Portland Police for more information on whether these arrests were the result of an organized mission or routine patrols.
According to the city's Stolen Vehicle Statistics dashboard, more than 11,800 vehicles in the city were reported stolen between January 2022 and this January with 92% of those recovered.
The neighborhood with the most stolen vehicles is Hazelwood followed by Lents and Northwest Portland.
See a typo in this article? Email web@kgw.com for corrections