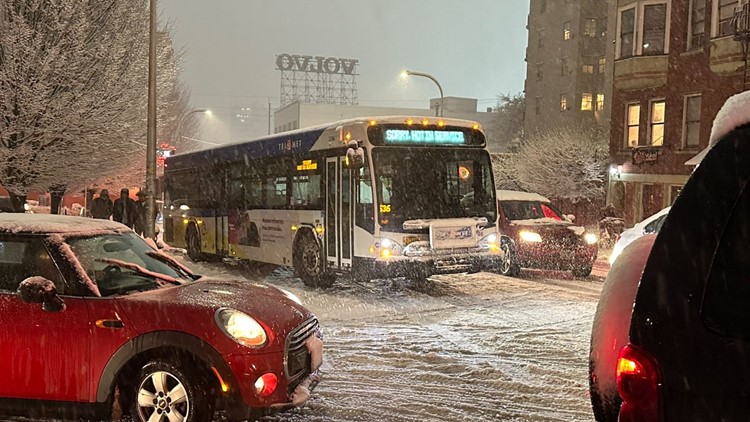 TriMet said snow was impacting employees trying to report to work, attempts to rescue stuck buses and restoring MAX service on the Green, Orange and Yellow lines.
PORTLAND, Ore. — TriMet MAX lines are experiencing delays and cancellations due to current winter weather in the Portland metro area. 
"Severe gridlock throughout the region is hindering just about everything, including our employees who are trying to report to work, attempts to rescue stuck buses and restore MAX service," said Tia York, a spokesperson with TriMet. "It's also making it more difficult for our contractors, who perform tasks such as laying down ice melt and plowing areas to help buses and trains keep moving."   
More than 100 buses have been stuck since the snow event began Wednesday afternoon, TriMet said. It's currently working to recover those buses that are stuck. 
TriMet is cancelling high elevation bus routes for Thursday morning which includes bus lines: 18, 26, 36, 43, 51, 53, 55, 63, 65, 68, 84,154 and 156.
A few MAX trains will be running overnight to help with removing accumulated snow on the train rails. 
"Running the trains overnight will help prevent snow from building up on the rails, and it can provide just enough warmth to the overheard wires to prevent them from refreezing as temperatures drop tonight," York said. 
Due to a state of emergency issued by Multnomah County, TriMet said it would not turn away anyone from traveling to or from a warming shelter who would be otherwise unable to pay fare, lasting from 6 p.m. Wednesday evening through 10 a.m. Saturday.