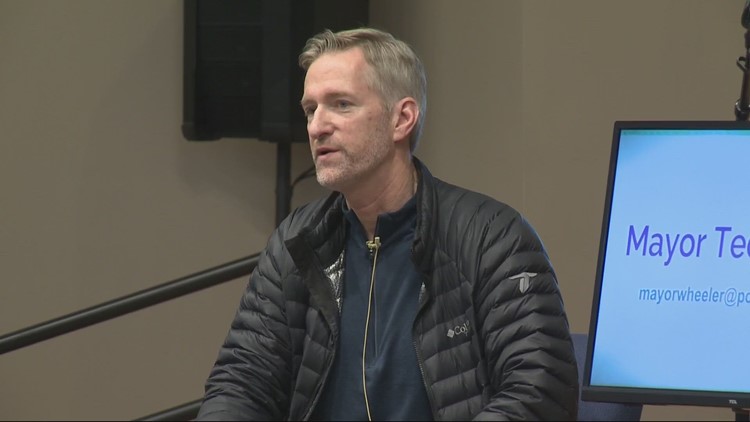 The meeting was organized by residents living in the Montavilla neighborhood, an area of town that the city once considered placing a large-scale camping site.
PORTLAND, Ore. — Residents of northeast Portland's Montavilla neighborhood gathered Saturday afternoon at the Eastside Church of Christ for a town hall meeting about the proposed sanctioned camping sites.
Portland Mayor Ted Wheeler was invited to answer questions from the audience and listen to their concerns.
"What's happening in our community is that the city and county are actively trying to resolve the issues that we're having in Portland and the more that they work on it, the worse that it seems to be getting. Our perspective is it would be good for us to be involved in what these decisions are and for us to all come together and figure out how we can make decisions that are good for everyone who lives here," said Angela Todd, a self-described community reporter for her channel called PDX Real and organizer of the town hall meeting. 
Todd said the community just wants to be heard and have a seat at the table when it comes to city and county government decisions that impact their neighborhood.
Three sites in Portland's Montavilla neighborhood have either been looked at or purchased as potential alternative shelter sites, either by the city or Multnomah County.
A site owned by Volunteers of America at 8815 Northeast Glisan Street was under consideration, but according to the Volunteers of America's website, the organization says that location is no longer under consideration by the city.
Two other sites along Southeast 82nd Avenue, which are owned by Multnomah County are turning into safe park sites.
The county announced earlier this week that the site at 333 Southeast 82nd Avenue will be turned into a safe park site. It'll provide people that live in their cars a place to park and access services to help them find housing.
Another site at 1818 Southeast 82nd Avenue is currently occupied by Quality RVs and operating business as usual. An employee inside the store said they didn't have direct knowledge of when their location would turn into a safe park site. 
"I think the county sites on 82nd are questionable in that they're just hoping to park people there in a parking lot with cars and a tent and I don't think that's meaningful help," Todd said.
At the meeting, those in attendance listened to the mayor speak on stage. He was asked questions that had been written by attendees and asked to him by a moderator.
He talked about what those sanctioned sites would look like, the city's plan for them and even mentioned how he's feeling more optimistic that the city, state and county will work better together now that there has been new leadership elected. 
"I have met more with our new Governor Kotek in the first six weeks of her administration than I did in 8 years of the prior administration," Wheeler said.
He was also asked the question of why cities seemed to look at areas of town that are considered more low income than others. A question that garnered applause from the crowd.
"That's a fair criticism," Wheeler said. "As we located our proposed alternative sites, shelter hubs, whatever you want to call them. I don't think we've landed on what the right branding yet, they have to be geographically diverse. I can tell you point blank, there is a location that we are looking at that would be considered the opposite of what you just described. We're getting a lot of blowback, I fully expected that."
One site has already been confirmed by the city earlier this month. The mayor announced on March 9 that the city was in talks to sign a lease for the vacant lot at Southeast Powell Boulevard and 13th Avenue. 
The site would house up to 100 tents and hold 150 people, giving them access to multiple health services and access to hygiene that unsanctioned sites would not offer. The California non-profit Urban Alchemy will manage the site.