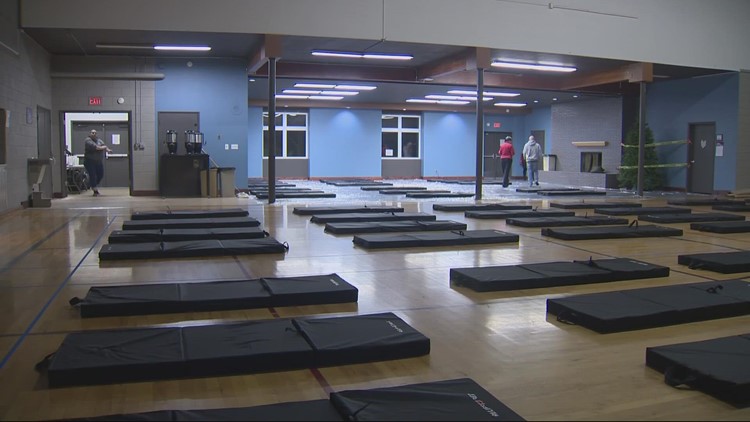 Snow fell in the Portland metro area Wednesday night and temperatures dropped into the mid 20s, and the region will stay cold until Sunday.
PORTLAND, Ore. — Multnomah, Washington and Clackamas counties opened emergency warming shelters overnight Wednesday amid cold temperatures and snow, according to each county's website, and it appears most of the shelters will remain open Thursday night.
Multnomah County
Multnomah County and Portland jointly opened four overnight shelters Wednesday, all of which are pet-friendly. People who need rides to shelters can call 211 or take TriMet, and won't be turned away if they don't have fare money, the county said.
All four shelters will be open again Thursday night, the county said, and all of them except the Charles Jordan Community Center will remain open during daytime hours Thursday. Charles Jordan will reopen at 8 p.m. Thursday.
The city and county will decide on a daily basis whether to reopen the overnight shelters on subsequent nights.
Washington County
Washington County's website lists two shelter locations that opened at 3 p.m. Wednesday and will stay open "until inclement weather ends." The shelters will offer hot meals and are pet-friendly. People who need transportation can call 503-629-0111.
A county staffer confirmed early Thursday afternoon that the Salvation Army location would be open Thursday night, and said the county was working to get the Beaverton location open as well.
Clackamas County
Clackamas County's website lists three overnight shelter locations, all of which will allow leashed dogs or small pets in carriers. All three will remain open Thursday night.
According to the website as of Thursday morning, the Zoar Church will remain open through 7 a.m. Friday, the Street Ministry will remain open through 1 p.m. Friday, and the Hope Center will remain open through 8 a.m. Sunday.
This is a developing story and will be updated as more information becomes available.