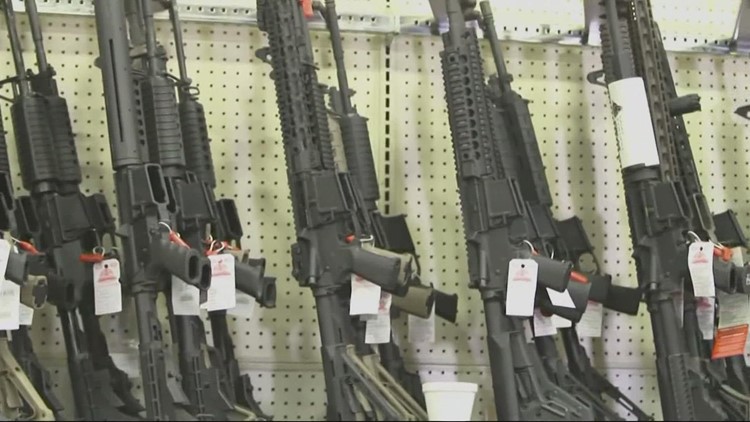 The Oregon gun control measure is projected to pass. Sheriff Michelle Duncan issued a statement saying she hoped the law would be subject to an immediate lawsuit.
LINN COUNTY, Ore. — Oregon voters appear poised to pass a new gun control measure, but Linn County Sheriff Michelle Duncan has already pledged not to enforce at least part of the new law.
Measure 114 would ban magazines that can hold more than 10 rounds and require a police-issued, five-year permit for all gun purchases. The permitting process would include firearms training and a federal background check.
Ballots are still being counted, but the results so far show the Yes votes leading by a slim but large enough margin for The Oregonian to project late Tuesday that the measure will pass.
In a message posted to the Linn County Sheriff's Office Facebook page Wednesday afternoon, Duncan described Measure 114 as "poorly written" and "a terrible law for gunowners, crime victims, and public safety."
"I want to send a clear message to Linn County residents that the Linn County Sheriff's Office is NOT going to be enforcing magazine capacity limits," she wrote.
Duncan's message was less clear about whether she would ultimately enforce the permitting portion of the law, stating that "there is still a lot that needs to be sorted out regarding the permitting process, who has to do the training and what exactly does the training have to cover."
She said she would work with other law enforcement agencies, elected officials and community members to figure out "the best course of action to take on permitting."
"I want to ensure anything we do or don't do will not hinder gunowners' rights to purchase firearms, intentionally or unintentionally," she wrote.
She added that she hoped that the measure's passage would result in an immediate lawsuit against it.
Duncan is far from the only Oregon sheriff to speak out forcefully against Measure 114, although at this point she appears to be the only one to specifically say they would not enforce part of the law.
Jackson County Sheriff Nathan Sickler and Klamath County Sheriff Chris Kaber have each stated that they believe Measure 114 to be unconstitutional, and Kaber added that he expects the measure to be challenged in court and prevented from taking effect while the case plays out.
Oregon State Sheriffs' Association general counsel Elmer Dickens also wrote in the Fall 2022 issue of the association's quarterly publication that he believed the high-capacity magazine ban to be unconstitutional, citing a court case regarding a similar ban in California.
And while Duncan appears to be the only Oregon sheriff to have directly pledged not to fully enforce Measure 114, earlier gun control efforts have been met with similar responses in Oregon.
A previous Linn County Sheriff, Tim Mueller, sent a letter in 2013 to then-Vice President Joe Biden stating that he would not enforce any new federal gun control measures that his department viewed as unconstitutional. The Crook County Sheriff at the time, Jim Hensley, said he'd sent the same letter.
More recently, Columbia and Umatilla counties both passed "Second Amendment Sanctuary" measures that prevent county officials, including sheriff's office employees, from enforcing most state and federal gun regulations, although the constitutionality of such ordinances is unclear.