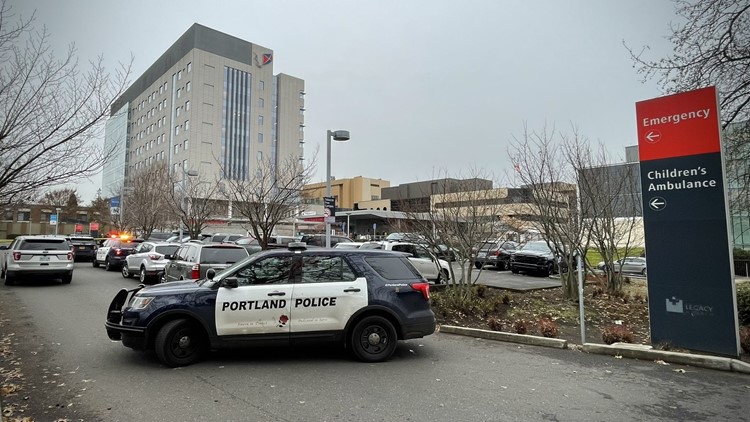 Legacy said that someone opened fire outside the hospital's emergency department around 1:15 p.m. Monday, striking the building.
PORTLAND, Ore. — Portland police responded Monday afternoon to a shooting on the Legacy Emanuel Medical Center campus located in North Portland's Eliot neighborhood.
Legacy Health spokesperson Ryan Frank confirmed that a shooting happened outside of the hospital's emergency department on the northwest side of the campus. No one was hurt, though there was damage to the building.
"The immediate threat has ended, and our facility has re-opened," Frank said in a brief statement just before 3 p.m. "We are grateful to our security officers who helped ensure the safety of our staff and patients throughout this incident."
According to a statement later issued by the Portland Police Bureau, a report of the shooting came in just before 1:15 p.m. on Monday from the area of North Gantenbein and North Graham Street. Dispatch received several calls at the same time, reporting "shots fired" in the parking lot of Legacy Emanuel's emergency entrance. At least one of the calls indicated that someone may have been shot.
Officers arrived to find several bullet strikes to the hospital building, but police said there was no shooting victim at the scene. Nobody claiming to have been shot at Legacy sought medical attention or police assistance.
"It's a little scary, especially if the person would have been able to get inside the building and hurt somebody," said Ruth Silva, whose son was a patient in the hospital during the shooting. Silva said the entrance doors in the lobby were locked when she tried to leave. "Security told me I needed to find a place far away from where I was in the building and seek shelter… I think that they did everything they could do to keep everybody safe."
PPB's Enhanced Community Safety Team, one of the agency's two gun violence units, responded to take over the investigation. Anyone with more information is asked to contact crimetips@police.portlandoregon.gov and reference case number 22-335485.
Early this year, 55-year-old Mark Johnson was shot and killed at Dawson Park, which borders the Legacy campus. Investigators later tied the killing to Joseph Banks, a man implicated in a series of seemingly random shootings throughout Portland. Until just weeks before the shootings began, Banks had been held in federal custody on a "guilty except for insanity" conviction more than a decade prior.