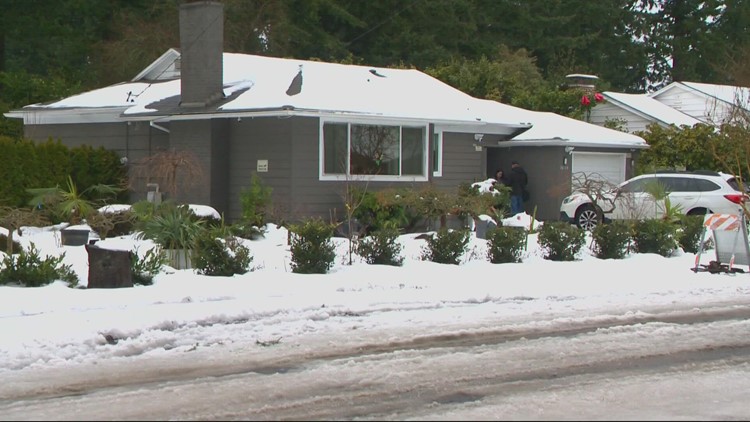 So far this year, there have been eight homicides in Portland. According to a KGW analysis, that's less than the number of homicides this time last year.
PORTLAND, Ore. — One man is dead, and another is critically injured after a shooting in Northeast Portland early Sunday morning. It happened in a residential area known as the Hazelwood neighborhood around 3:20 a.m. It's the latest residential area to be impacted by Portland's ongoing gun violence.
On Sunday, couples were walking their dogs through the seemingly quiet neighborhood. Residents described the area to KGW as "good." Yet earlier that morning, more than a dozen police cars blocked the streets as they responded to the shooting.
"It's a scary feeling," said one neighbor Randalynn Dewitt who woke up to the sound of gunshots followed by police lights flashing through her bedroom window.
"Loud pops consecutive pretty evenly spaced out," Dewitt described the sound she said isn't unusual for the area, though still unsettling.
"My wife and I woke up to what sounded like medium to loud pops maybe four to five then some screaming that was a little delayed," said another neighbor Josh Richmond who was out walking his two dogs.
Portland police went door-to-door looking for evidence and video of the crime around 10:30 a.m. Sunday morning. They said no arrests had been made and at this time they aren't searching for a suspect. They said the man who was critically injured was taken to the hospital. The other man's body Dewitt saw laying in front of her neighbor's house.
"It was in the street. It's like that's crazy," she said in disbelief.
So far this year, there have been eight homicides in Portland. If Portland police determine this one to be a homicide, it would be the ninth. According to a KGW analysis, this time last year there were 18 homicides. Portland police agreed it appears the homicide rate is on the way down. 
Some residents like Marcus Lattimore who just moved to Hazelwood believe it's up to the community to change this violent trend. "To try to solve the issue together because that's really the only way to move forward," he said.