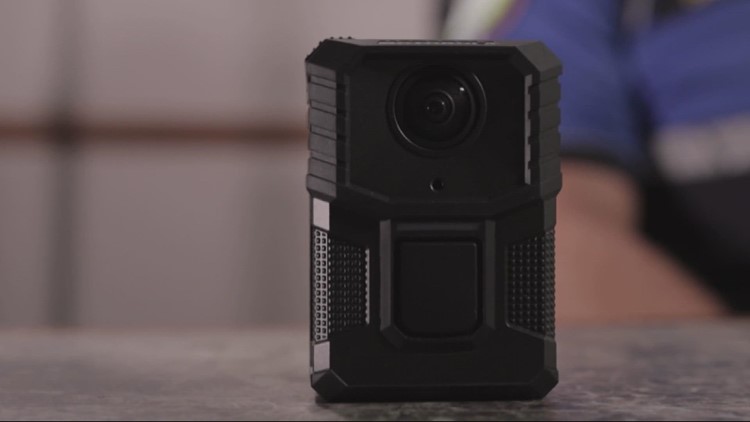 While Portland remains the largest city in the U.S. without body cams on its city police officers, Salem has now rolled them out for patrol officers and detectives.
SALEM, Ore. — Eyewitness testimony was once the gold standard for evidence in a criminal case, the kind that reliably put criminals away. The idea that it's actually accurate has become more cloudy over time, as we find — for example — that bad eyewitness identifications contributed to about 69% of wrongful convictions in the U.S. later overturned by DNA evidence.
In law school, would-be attorneys are often taught that our memories are notoriously terrible. Two people can see the same thing happen and remember dramatically different versions of events. KGW senior investigative reporter Kyle Iboshi ran a little demonstration of this back in 2018.
This is part of the reason that police body-worn cameras have caught on so much since the technology became available. Theoretically, they take some of the unreliability out of reconstructing interactions with law enforcement.
It's taken years for Portland to adopt body cams for its police officers, leaving it as the largest city in the U.S. to have a municipal police department without them. The U.S. Department of Justice reports that 80% of large police departments across the country use body cams.
The Story's Pat Dooris spoke with Salem Police Chief Trevor Womack on Thursday afternoon about how the body cam program is going so far.
"That's going well. I think that I was, I was actually pretty impressed for such a big technology system to be implemented," he said. "We were a little concerned about how that might go. Usually there's glitches and so forth, but I think the amount of preparation we put into this paid off because we've had really no issues."
Salem police worked over the past two years to get the program in place. It launched on Monday — and almost immediately, the agency responded to a pretty major event. That night, officers rushed to a shooting where three people were hit. One of those people died.
Womack said that the body cams are now helping with the shooting investigation.
"Especially a scene like that where you arrive, there's multiple people shot, which is a chaotic situation," he said. "There's a lot of people as officers are arriving. There's a lot of people still there roaming around, leaving, coming. And so the difference there is that from the start, the time officers arrive (they) begin to capture that video. You're seeing license plates and vehicles that might be leaving, people's faces. You don't know if these are victims or witnesses or suspects. And so that did prove valuable already. That it's a tool for follow-up investigators especially and we're using it in that way."
This kind of information, then, is not being captured by departments without video, like the Portland Police Bureau. The Vancouver Police Department said that they aren't using body cams yet, but their program will launch by the end of this month.
'Notepad 3.0'
In Portland, it's been 8 years of discussions without actually adopting body cams. The fundamental hang-up lately has been whether police officers can review their footage before writing up their reports. The police union wants this ability to review, but community activists and the federal government say they should first write up a report from memory so that they can't try to massage their story based on what's captured in the video.
Chief Womack stressed that he did not want to comment on Portland or any other department's use of body cams or lack thereof. Regardless, he's clear in his thinking on the topic — body cameras are a good tool, and allowing officers to view video as they write their reports is common sense to him.
"I started in 1992. We weren't even using email yet, and I remember I was issued a little notepad with a pen, right? Every call I went to, I would take notes about everything that happened and I'm observing and I'm talking to everybody," Womack said. "And then when I went back to the office, it might be that day or two days later when I had to write this report. I would pull out my notepad and I would review my notes because my memory's not perfect. I can't remember all those details. I would review my notes and I would write an accurate report based on those notes.
"This — this is Notepad 3.0, right? This is a technological way to capture what's happening and refresh an officer's memory to make sure that report is as thorough and as accurate as possible. Why wouldn't I want officers to have that information?"
The only time his officers can't review their footage, Womack said, is for police shootings and other critical incidents where an officer may have used deadly force. That's when another agency steps in to lead the investigation, and they'd prevent an involved officer from reviewing body cam video until they're interviewed.
In Portland, however, these investigations work a bit differently. Uses of deadly force are investigated by the Portland Police Bureau itself in an "internal review" process. This happens alongside a Multnomah County DA's office investigation which is presented to a grand jury.
Right now, the process for adopting body cams in Portland is in deadlock. The city and the police union were negotiating terms of a rollout, but gave up and declared an impasse this week. Now the matter will go to an arbitrator, which could add between 6 and 9 months to the delay. At the end of it, the Justice Department has reserved the right to approve or reject anything that the arbitrator decides.