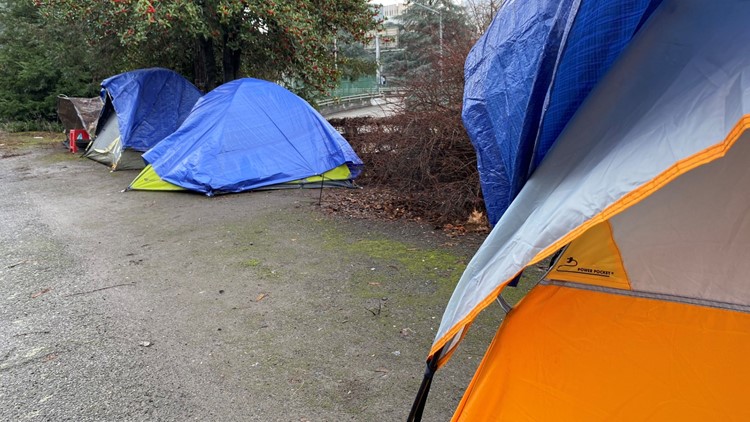 PORTLAND, Ore. — Four windswept tents lined the corner of Southwest 14th Avenue and Salmon Street Sunday morning. It's a busy intersection with nothing but an old tree to protect the homeless people from the elements.
"It really breaks my heart to see every day," said Jakob Hollenbeck who's been caring for the men living in those tents for several months. "I wanted to make sure they felt welcome in the neighborhood, and it really grew into something special," Hollenbeck explained.
His relationship with those homeless people started a few months ago when they set up camp outside his apartment in Northwest. They were recently cleared by the city's Impact Reduction Team and now live on that busy intersection in Southwest. "I'm trying to push the city to make this crisis better and right now all I see is them making it worse," Hollenbeck said of the city's campsite removal process. 
Hollenbeck is 22 years old and known in his neighborhood for helping people living on the streets.
"I just decided that I wanted to make a difference and help get some winter supplies," he said. A few months ago, he started a GoFund Me, which raised nearly $3,000 in two weeks.
"So, the tents you see over there that tent that tarp were things that I was able to buy for them," Hollenbeck said while pointing out the tents and tarps on SW 14th and Salmon. He's aware that many people argue his efforts are enabling the crisis.
"I think that we have to think about what it means to be unhoused and once you become unhoused how do you get back into housing and there's no way, just looking at this crisis, to get back into housing if you aren't given certain supports," he said.
In return, those at the camp are supporting him when late one night Hollenbeck was threatened by another homeless person.
"I was coming back from getting some food around 11 p.m. when I saw an unhoused person who I knew. I had just helped him that night, gotten him some dinner and when I came back he told me to give him my food and I told him I was planning on eating it and before I could offer to even share it he grew really belligerent. He has a lot of mental health and drug problems. He had a shard of glass in his hand and he was telling me he was going to kill me. I was paralyzed," Hollenbeck explained.
It was at that moment his homeless friends jumped in to protect him.
"It really wasn't something I expected from them," he said. "They were in their tents. They could've just stayed there. They really risked their lives to protect mine and that means a lot to me."
"They take care of us, and we take care of them that's the way you do it. If you do a favor for me, we'll return the favor back to you," said Mo Smith one of the homeless men living in the camp. This has been his moto for the 20 years he's lived on Portland's streets. He blames high rent prices and inability to get a job as the reason he's remained homeless for so long.
"It's like if you're homeless they figure you don't have no skills or anything positive, so I said, 'hell with it then,'" Smith said.
For about five years Smith has been on a waitlist for affordable housing. City data shows people living on the streets face a five-10-year waitlist for affordable housing, which seems like an endless cycle for people like Smith, when that's the only hope he has to hold on to.
"There's so many people that have been here 20 years, 30 years… they should be first on the list but no they're like at the bottom of the damn barrel," Smith said.
"I want people to understand that there are people all over the city who are just going through hard times and just need a little support," Hollenbeck added.