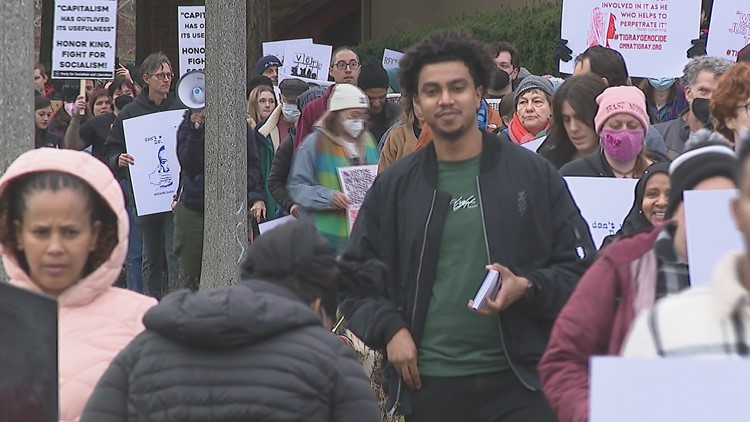 The group 'Don't Shoot Portland' organized the walk in honor of MLK's legacy.
PORTLAND, Ore. — Hundreds of people showed up to Peninsula Park on Monday to celebrate the life and legacy of Martin Luther King Jr. The group 'Don't Shoot Portland' organized the march that included volunteers, community members, teachers and students. Tai Carpenter is the board president for 'Don't Shoot Portland' which promotes justice, civic action and social change. The march was the 9th annual 'Reclaim the Dream' march. She said MLK's legacy means so much to her.
"It means perseverance," Carpenter said. "It means being hopeful, spreading your light and love to others, unlearning harmful behaviors yourself."
Teressa Raiford started 'Don't Shoot Portland' in 2016 after her nephew died from gun violence back in 2010.
"The work that Dr. King did in his lifetime, the values that he embedded in my generation, I wanted to utilize not only my lived experience but what I've learned from him to activate my community against violence," Raiford said. 
The community of marchers was very diverse, something organizers said MLK would be proud to see. Matt Stevenson is a senior at Cleveland High School, he said he came to stand with the Black community and combat white supremacy. 
"It's a problem that still exists and it's having incredibly harmful effects on all people in Portland," Stevenson said. "I think it's important to build community and solidarity around the issue."
Susan Anglada-Bartley is a teacher with Portland Public Schools. She said there's a lot of inspiration that comes from marching next to people fighting for peace and equality. 
"No human being is better than any other human being," Bartley said. "We do need to look for that humanity in one another and I try to bring that to the classroom everyday."
PHOTOS: Celebrating MLK Day
In addition to the march there were various MLK events across the Portland metro area some which included a park cleanup hosted by SOLVE and a tree planting. Service and reflection was a constant theme across town with many celebrating MLK's impactful legacy.