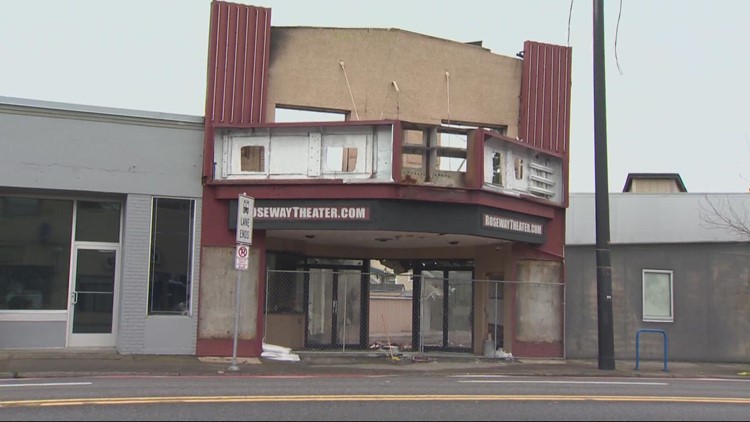 An electrical fire on Aug. 6 severely damaged the nearly 100-year-old building. The owner of the theater said it would cost too much to rebuild.
PORTLAND, Ore. — The Roseway Theater in Northeast Portland will be torn down and will not be rebuilt after the historic building was destroyed in an electrical fire in August. 
The owner, Greg Wood, confirmed to KGW on Monday that the theater will not be rebuilt because the cost of constructing a new building would be too high.
"Sadly, the fire led to the need for the structure to be demolished and current costs are prohibitive to rebuild," Wood wrote in an email to KGW.
On Aug. 6, firefighters with Portland Fire and Rescue were called to a fire at the theater on Northeast Sandy Boulevard and Northeast 72nd Avenue around 5:48 a.m. Crews arrived to find the building covered in black smoke. The floor collapsed and flames started to burn through the roof when crews entered the building. 
Fire crews used aerial ladder trucks to extinguish the fire from above. At least 80 fire personnel assisted. There were no reports of injuries or deaths.
Wood said he plans to donate the salvaged Roseway Theater sign to the National Neon Sign Museum in The Dalles. Some of the building's stained glass that survived the fire will be given to the Hollywood Theater on Northeast Sandy Boulevard and Northeast 42nd Avenue. Wood
The Roseway Theater was originally built in 1924 and opened its doors in 1925.