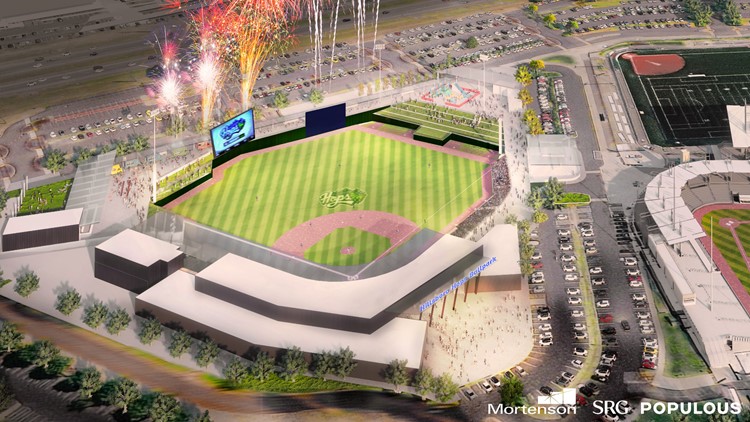 The team has shelved an earlier plan to renovate Ron Tonkin Field in favor of building a new and larger stadium at the Gordon Faber Recreation Complex.
HILLSBORO, Ore. — The Hillsboro Hops and the City of Hillsboro announced plans Wednesday for a $120 million new ballpark and year-round outdoor entertainment venue at the Gordon Faber Recreation Complex. 
The minor league Hops currently play home games at Ron Tonkin Field within the complex, which also houses Hillsboro Stadium and six other baseball and softball fields. A conceptual rendering appears to show that the new ballpark will replace three of those fields on the west side of the complex.
The team initially planned to renovate the 10-year-old Ron Tonkin Field to meet the new MLB requirements, and the city issued a request for proposals for that project in early 2022, but the team said Wednesday that the early design work showed a new ballpark would be more cost-effective.
"The requirement to meet new MLB facility standards has turned into an opportunity for us to reimagine what kind of venue our region needs and deserves," Hops president and general manager K.L. Wombacher said in a statement. "This new ballpark is going to be a generational project that serves as a community gathering place for decades to come."
The new ballpark will be designed to host concerts, festivals and community events in addition to Hops home games and amateur baseball games, according to the news release, and could host more than 300 events per year.
The $120 million project is expected to break ground in late summer and be completed prior to the start of the 2025 Hops baseball season. The venue will be able to accommodate 6,000 people for baseball games and up to 7,000 for other events.
Wombacher told the Portland Business Journal last year that the Ron Tonkin renovation plan would raise the field's seating capacity from 4,500 to about 6,000. The city put the renovation's cost at $40 million, although Wombacher said at the time that he thought it could end up being $60 million to $100 million.
Funding for the new ballpark will come "primarily" from private financing secured by the Hops, according to Wednesday's news release, with the city covering an unspecified "smaller portion" through the Transient Lodging Tax.
The Hops will have full operational control over the ballpark and will be responsible for all ongoing expenses, while the city will retain ownership and operation of Ron Tonkin Field.
"The City appreciates the Hops as a partner and recognizes the unique value the organization brings to the community. Creating a more robust regional entertainment destination will provide long term benefits to the City as well as the Hops," Hillsboro city manager Robby Hammond said in a statement.
The Hops' 2023 season will begin with an April 11 home opener against the Everett AquaSox and run through early September.