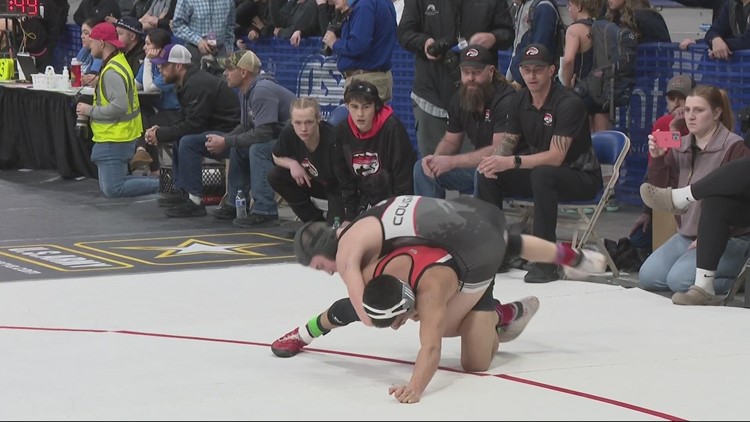 Illinois Valley High School boys wrestling team helped a lot of stranded drivers get home Wednesday, and they took home the OSAA 2A/1A State Championship Friday.
PORTLAND, Oregon — The road to a high school state wrestling championship is long. It's a road marked by discipline, dedication and determination. For the boys wrestling team from Illinois Valley High School in Southern Oregon, that road was also marked by blizzard conditions on Wednesday. 
It took the boys wrestling team more than nine hours to reach downtown Portland Wednesday night. The roads were covered in so much snow and spun-out cars that their bus driver couldn't even park.
"It was just craziness," said senior Jahsiah Demuths. "Just cars spinning out everywhere."
"We were a couple blocks from our hotel and we couldn't get by because of all the cars," added senior Ryon Martinho. "They were all stuck in the snow."
That's when wrestling coach Jesse Clark stepped in.
"I told the bus driver to open the door and I said 'give me five wrestlers, let's go!"' said Clark.
For the next three-and-a-half hours, Clark and all of his athletes got to work pushing cars.
"Once we got them moved, we moved forward, turn the corner and there's another car!" said Martinho.
"They were definitely appreciative that we were willing to help out and not just sit and watch," said Demuths.
The conditions pushed the Oregon School Activities Association State Championship meet from Thursday to Friday. Clark said it was heartwarming to watch his wrestlers commit to helping so many strangers before that.
"I think this sport teaches you an ethic not just of sport, but empathy too," said Clark.
It's the kind of mentality that helped earn Clark "Coach of the Year" honors, Martinho the state championship at 138 pounds, and Illinois Valley High School the OSAA 2A/1A wrestling team championship Friday.
Maybe it was the extra workout pushing cars that got them on that road to victory. But above all, it kept them on the high road.