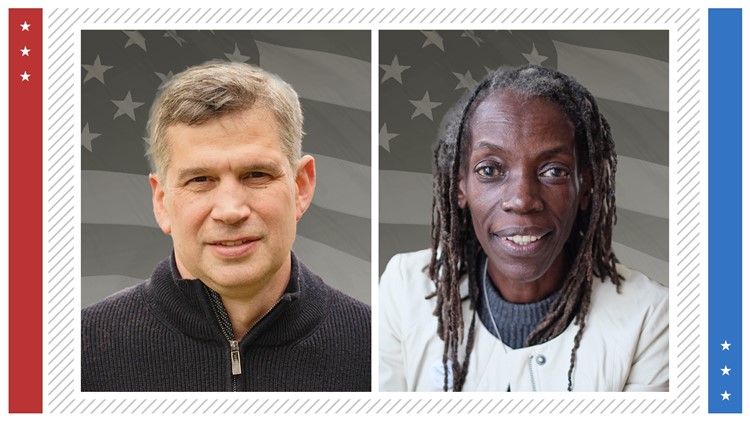 Initial returns showed Gonzalez with a roughly 13-point lead over Hardesty in the one Portland City Council race on the ballot.
PORTLAND, Ore. — Initial results posted Tuesday evening for the Portland City Council race showed challenger Rene Gonzalez in the lead over incumbent Jo Ann Hardesty in the race for Portland City Council.
The first round of results showed Gonzalez leading with 56.4% to Hardesty's 43.3%. The initial results are not final and will continue to be updated as more votes are tallied.
Gonzalez and Hardesty were the top two finishers in the May primary election, setting up a November runoff after Hardesty fell short of the 50% threshold to win outright. The winner of the runoff will serve a four-year term starting in January.
It's been a contentious general election campaign. The Gonzalez campaign sent Hardesty a Cease and Desist letter last week, alleging that a recent Hardesty campaign mailer had included false statements about Gonzalez.
The mailer also suggested that Gonzalez violated campaign finance rules, referencing a $77,000 fine that the city's elections office leveled against his campaign for securing a heavily discounted lease on its downtown office from developer Jordan Schnitzer, a Gonzalez supporter. 
Gonzalez appealed the penalty and a judge subsequently threw out the fine, ruling that the city had not shown that the discount was a campaign finance violation under the rules of its small donor elections program.
Hardesty called the cease and desist letter a campaign stunt and a distraction.
The runoff is the only Portland City Council race on the November ballot. Incumbent Commissioner Dan Ryan's seat was on the May primary ballot, but he got more than 50% of the vote, securing him another term without a runoff.
Mayor Ted Wheeler and the other two incumbent commissioners, Mingus Mapps and Carmen Rubio, were all elected to their current terms in 2020 and their seats will not be on the ballot again until 2024.