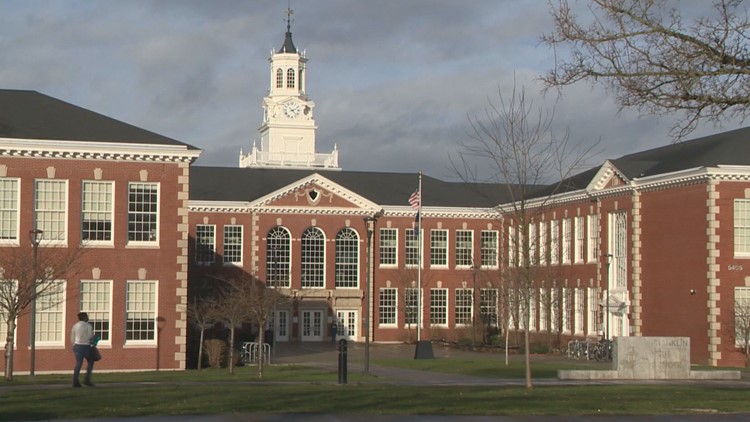 A shooting incident near Franklin prompted the school to cancel classes Friday. No students or staff were injured.
PORTLAND, Ore. — Reports of shots fired near Franklin High School in Southeast Portland on Thursday afternoon prompted the school to cancel classes on Friday.
According to Portland police, school administrators heard what they believed to be shots fired. Out of an abundance of caution they ordered a "secure the perimeter" for both Franklin High School and Atkinson Elementary School, and called 911. 
Portland police officers located a shooting scene in the South Tabor neighborhood near the high school. No arrests were made. 
No students or staff were injured, according to a statement from Portland Public School. 
"Today was a stark and devastating reminder that, while our school works to provide a safe space for students, the epidemic of gun violence continues to impact our city," said Principal Chris Frazier in a letter to parents.
Counselors will be on-hand Friday afternoon for students who want to talk.
Anyone with information about the shooting is asked to call PPB non-emergency line at 503-823-3333 or email crimetips@police.portlandoregon.gov.
Earlier this year shots were fired outside of Franklin High School's gym during a boys basketball game, according to police. Officers found evidence of gunshots in the parking lot on the east side of the school.  A juvenile was grazed by a bullet and suffered a minor injury, but he refused medical aid and didn't go to the hospital, police said. 
The recurring pattern of shootings near Portland schools led PPS leaders and PPB to discuss solutions to address gun violence near schools. In a series of tweets in January, Police Chief Chuck Lovell said he spoke with District Superintendent Guadalupe Guerrero about adding extra patrols in the neighborhood around Franklin High School.  
This is a developing story and will be updated as more information becomes available
See a typo in this article? Email web@kgw.com for corrections