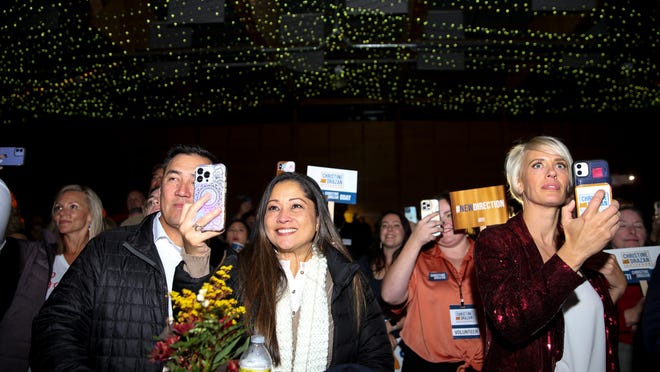 This story was updated at 6:40 p.m.
Democrat Tina Kotek has been elected the next governor of Oregon.
Kotek had held a slim lead over Republican Christine Drazan since the first set of results were reported Tuesday evening. Her lead grew Thursday – 47.1% to 43.5% for Drazan – with an estimated 85.5 % of votes counted.
"I am honored and humbled by this opportunity to serve, and I will strive every day to be a force for positive change in our state," Kotek said during a news conference Thursday morning in Portland.
Betsy Johnson, who ran as an independent, conceded her loss early Tuesday evening.
Drazan has not conceded. She issued a statement Thursday afternoon saying her campaign continued to monitor returns.
"With several hundred thousand ballots yet to be counted, we continue to exercise patience as we await additional clarity regarding the final outcome of this race," the campaign wrote.
A new state law allows county clerks to count ballots postmarked by election day through Nov. 15.
Kotek said she spoke with Drazan on Thursday morning, before her news conference.
"We are here today because The Oregonian has projected me as the winner. I think the analysis is showing that," Kotek said. "She (Drazan) understands that that's where that analysis is, and it's time to start work."
Kotek joins Maura Healey of Massachusetts as the first openly lesbian elected governors in the United States.
She announced Thursday that she has hired Tim Inman as her chief of staff. Inman was a chief of staff for Kotek in her role as House speaker.
Kotek said she would focus on problems all three candidates for governor agreed needed to be fixed. Those are housing and homelessness; access to mental health and addiction treatment; and successful schools for kids.
She also said she would work to bridge divisions in the state, and plans to travel extensively throughout Oregon during her first few months in office.  
"I ask my fellow Oregonians, no matter who you voted for, or even whether you voted at all, to believe in our state and our future," Kotek said. "I know that we can make things better, fix things, come together."
Gov. Kate Brown tweeted her congratulations Thursday afternoon.  
"It has been my honor to serve as Governor and I look forward to working together toward a smooth transition in January," Brown wrote in her tweet.  
The Oregon Education Association, Oregon League of Conservation Voters, Planned Parenthood PAC of Oregon, and Oregon AFL-CIO also issued statements congratulating Kotek.
"Governor-Elect Kotek has long been a champion of public education and working families in Oregon," wrote Reed Scott-Schwalbach, president of the Oregon Education Association.
"Under her speakership, the Oregon legislature passed the Student Success Act, raised the minimum wage, secured the right to paid family leave, and much more," she said. "We are excited to continue to work with the governor-elect to strengthen Oregon's public schools and empower working families throughout the state."
Oregon's closest governor's race in a decade
Johnson siphoned enough votes from Democrats to endanger the party's 40-year winning streak.
In any other election year, Kotek would have been a sure bet, as Oregon leans heavily Democratic. But Johnson attracted more conservative Democrats, who objected to Kotek's progressive agenda and may have viewed her as an extension of Brown, one of the least popular governors in the country.
Kotek was elected to the Oregon House in 2006, and served as speaker for a record nine years before entering the governor's race. As speaker, she helped pass laws raising the minimum wage, establishing paid family leave, and transitioning the state to 100% clean electricity.
Drazan was elected to the House in 2018 and was the Republican leader from 2019-21.
She has a long history in the building, working as a legislative staffer from 1995 to 2003, then moving into lobbying. As a relatively new lawmaker, Drazan led a Republican walkout in 2020 to block passage of a bill to reduce greenhouse gas emissions.
The race was the most expensive in state history, with nearly $69 million spent by the major candidates. That included large contributions from Nike co-founder Phil Knight. Early in the campaign, Knight gave $3.75 to Johnson. More recently, he contributed $1 million to Drazan's campaign.
As of Nov. 9, Kotek had raised about $29.4 million and spent about $28.7 million, according to campaign finance records from the Oregon Secretary of State.
Drazan had raised about $22.5 million and spent about $22.5 million.
Johnson had raised about $17.5 million and spent about $17.7 million.
Tracy Loew covers the environment at the Statesman Journal. Send comments, questions and tips totloew@statesmanjournal.com, 503-399-6779. Follow her on Twitter at@Tracy_Loew