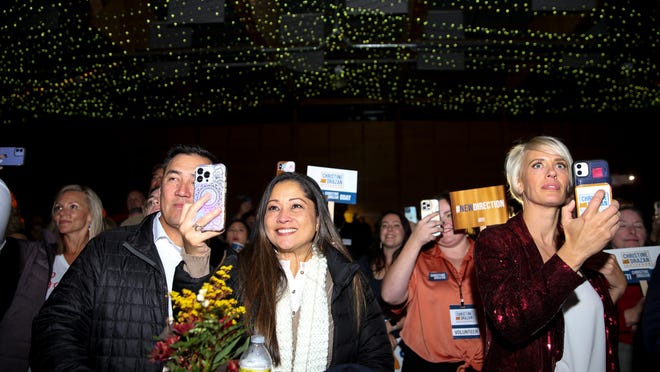 Democrat Tina Kotek has declared victory in the Oregon governor's race.
Kotek has held a thin lead over Republican Christine Drazan since the first set of results were reported Tuesday evening.
The Oregonian and Oregon Public Broadcasting have both called the race for Kotek, while the Associated Press says it's still too close to call.
"I am honored and humbled by this opportunity to serve Oregon, and I will strive every day to be a force for positive change in our state," Kotek said in a statement.
Her campaign said it had reviewed returns posted through early evening Wednesday before releasing the statement.
Drazan, Kotek's opponent, has not conceded. She issued a statement Wednesday afternoon saying her campaign continued to monitor returns with the hope the race would tighten.
Kotek is scheduled to speak at a news conference in Portland on Thursday morning.
"Oregon faces major challenges, and I look forward to getting to work to solve them," she said in the statement.
"I promise to be a Governor for all of Oregon," she said. "I will start by working tirelessly to deliver results on issues of shared concern across our state: housing and homelessness, access to mental health and addiction treatment, helping our students succeed, and supporting small businesses."
Betsy Johnson, who ran as an independent, trailed far behind and conceded her loss early Tuesday evening. But she siphoned enough votes from Democrats to endanger the party's 40-year winning streak.
In any other election year, Kotek would have been a sure bet, as Oregon leans heavily Democratic. But Johnson attracted more conservative Democrats, who objected to Kotek's progressive agenda and may have viewed her as an extension of Gov. Kate Brown, one of the least popular governors in the country.
Kotek was elected to the Oregon House in 2006, and served as speaker for a record nine years before entering the governor's race. As speaker, she helped pass laws raising the minimum wage, establishing paid family leave, and transitioning the state to 100% clean electricity.
Kotek would be one of the nation's first openly lesbian governors, along with Democrat Maura Healey in Massachusetts.  
Drazan was elected to the House in 2018 and was the Republican leader from 2019-21.
She has a long history in the building, working as a legislative staffer from 1995 to 2003, then moving into lobbying. As a relatively new lawmaker, Drazan led a Republican walkout in 2020 to block passage of a bill to reduce greenhouse gas emissions.
The race was the most expensive in state history, with nearly $69 million spent by the major candidates. That included large contributions from Nike co-founder Phil Knight. Early in the campaign, Knight gave $3.75 to Johnson. More recently, he contributed $1 million to Drazan's campaign.
As of Nov. 9, Kotek had raised about $29.4 million and spent about $28.7 million, according to campaign finance records from the Oregon Secretary of State.
Drazan had raised about $22.5 million and spent about $22.5 million.
Johnson had raised about $17.5 million and spent about $17.7 million.
A new state law allows county clerks to count ballots postmarked by election day through Nov. 15. That means the final outcome of some races may not be known until next week.
Tracy Loew covers the environment at the Statesman Journal. Send comments, questions and tips totloew@statesmanjournal.com, 503-399-6779. Follow her on Twitter at@Tracy_Loew