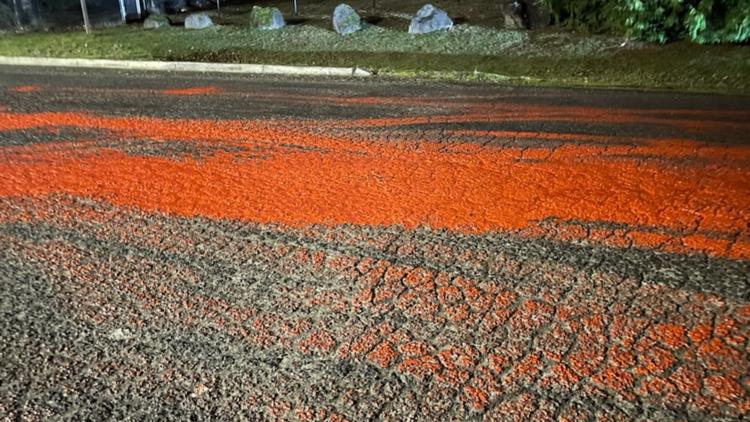 The truck spilled red dye onto roads between Clackamas and Multnomah County, the sheriff's office said.
TROUTDALE, Ore. — A semi-truck driver left behind a mess for several miles on Saturday night after their truck leaked, splattering red-colored dye on several roads, freeways and possibly other vehicles.
The driver said he stopped to inspect his load after being flagged down by another driver. Deputies say 40-year-old Junior Jean told them that the company he works for told him to keep going, so he drove several more miles into Troutdale as the liquid used to dye mulch spilled from the truck onto the pavement.
Deputies learned that the truck had left the Clackamas area headed north on I-205 from Southeast Sunnyside Road, took I-84 east and exited at Marine Drive in Troutdale.
Jean was cited for operating with sifting or leaking load, criminal mischief in the third degree and reckless driving.
It is possible that vehicles near the truck might have been damaged. Police ask anyone who was driving on I-205 northbound, I-84 eastbound or NE Marine Drive between 6:00 p.m. and 7:30 p.m. on Saturday to check their vehicle. Investigators recommended getting a car wash and would like to hear from anyone whose vehicle is stained at webmaster@mcso.us with the following details: full name, number, make, model and images of the damages.
The driver reported that the dye is liquid soluble, meaning it washes away when it rains.