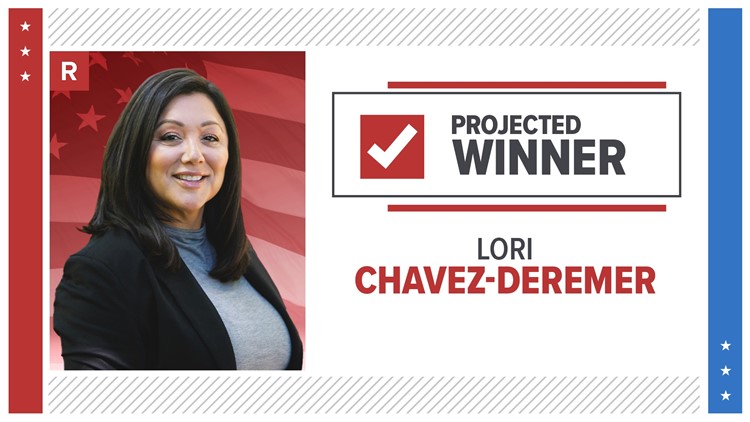 The Associated Press named Republican Lori Chavez-Deremer the winner over Democrat Jamie McLeod-Skinner.
Chavez-Deremer's victory flipped the district giving the Republicans a U.S. House seat in the district. This also makes Chavez-Deremer the first Latina congresswoman from Oregon.
Chavez-Deremer released a statement shortly after she was projected the winner.
"As mayor of Happy Valley, I was proud of my bipartisan track record, and it was critical to approach every issue through a non-partisan lens," said Chavez-Deremer. "That is exactly what I promise to do as your next Congresswoman. This is a historic victory for Oregon, but the work starts now. I vow to work for all Oregonians toward a better future for our children."
Chavez-Deremer held a narrow lead in one of the state's mostly closely-watched races for the first few days after Tuesday's election, but the margin was too close to call until Friday.
Friday morning, Chavez-Deremer was ahead of McLeod-Skinner with 51.2% of the vote to McLeod-Skinner's 48.8%, a lead of about 6,800 votes. 
The Oregonian projected Republican Lori Chavez-Deremer would win the race, defeating Democrat Jamie McLeod-Skinner.
As of 11:45 a.m. Sunday morning, Chavez-Deremer is still ahead of McLeod-Skinner with 51.1% of the vote to McLeod-Skinner's 48.9%, a lead of about 7,199 votes. 
The district was previously held for seven terms by longtime Democratic incumbent Rep. Kurt Schrader, a President Joe Biden-endorsed moderate, fell to challenger McLeod-Skinner during the 2022 primary. McLeod-Skinner, an attorney and part-time emergency preparedness coordinator, ran a more progressive campaign that criticized Schrader's opposition to bills that would have increased the federal minimum wage and worked to reduce prescription drug prices. 
The primary outcome set McLeod-Skinner on a collision course with Chavez-DeRemer, former mayor of Happy Valley, Ore., in the November general election. Chavez-DeRemer pledged to support local businesses and police and address "the crisis on our southern border." 
Though Schrader held the 5th District through six terms in Congress, it became clear in the months leading up to November that the race would not be an easy win for McLeod-Skinner — in fact, polling began to show Chavez-DeRemer pulling ahead.
Beyond the individual appeal of the candidates to voters and a shifting political landscape at the national level, the 5th Congressional District of 2022 was quite literally not the same place it had been just a few years earlier. The race involved a sharp and somewhat unpredictable demographic shift.
Chavez-DeRemer and her class of Republican candidates for Congress received a relatively early boost during an August visit from House Minority Leader Kevin McCarthy and sitting Congressman Cliff Bentz, whose district encompasses much of Oregon's expansive southern, eastern and central regions.
By comparison, it wasn't until later in the race that Democratic candidates in Oregon began to see help from visiting party luminaries like President Biden, Sen. Elizabeth Warren and Sen. Bernie Sanders — but most focused their energies on stumping for gubernatorial candidate Tina Kotek, not McLeod-Skinner, as polling for the governor's race likewise showed potential trouble for Democrats.
McLeod-Skinner conceded the race Sunday, in her full statement she stated:
"From day one, our team worked hard to bridge the divides across our diverse district, to focus on the needs of working people and our environment, and to protect our fundamental rights and democracy. We listened to voters and proposed solutions for Oregonians. 
"While there are still votes to count, it appears that the ultimate result will not be the outcome we worked so hard to achieve. I spoke with Lori to congratulate her and wish her well in representing Oregon's Fifth District during these challenging times. Our success as Oregonians is dependent on the success of our elected leaders, and I encourage all of us to help our elected leaders bridge our divides to address our common challenges. 
"As we transition from this election cycle, I am left with a tremendous sense of gratitude. I am grateful for the support of my family. And I also want to thank Lori's family, who I enjoyed meeting during the campaign, for their support of her as well.