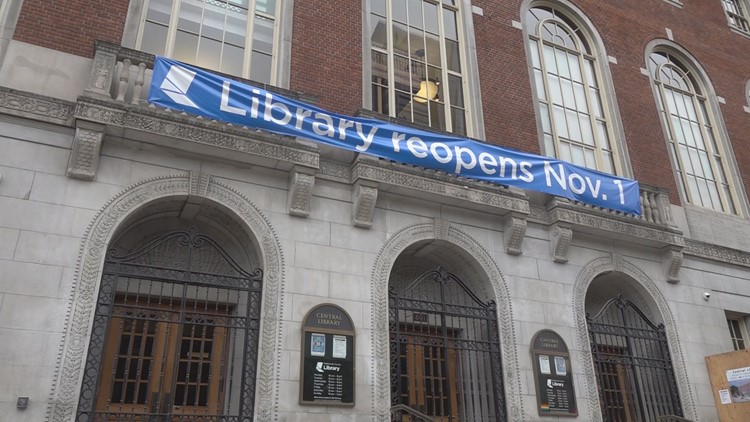 The downtown library was closed to visitors for three months, as crews worked on phase one of renovations. A longer closure for construction is planned for 2023.
"It was opened in 1913," said Shawn Cunningham, a spokesperson for the Multnomah County Library. "Part of the work that we've done here actually restores the front of Central Library to more like it was when it opened more than 100 years ago, with some outdoor public space."
In addition to the work outside, which includes better access for people with disabilities, Cunningham said crews are expanding and remodeling the first floor bathroom. When people return to visit the library, some of the work— both inside and out— will continue. 
Another phase of construction at the Central Library will begin in 2023, and is estimated to take six months or more. 
"At the end of those closures, what they're going to see are newer, more modern, bigger and better spaces," Cunningham said. 
Library facilities manager Alene Davis said it was a hard choice to make when deciding to close for several months, but in a building this size— it's complicated to stay open during major work.
"We could prolong and make this like a year an a half long project by trying to keep open, but for a year and a half, staff and patrons are just living with this constant construction noise," she said. "So instead we chose to try to sort of rip the band-aid off, do it in a shorter period of time, and get it done so that we can return to service as normal in a much more wonderful library space."
Across the county, bond money approved by voters in 2020 will fund a new library in East County, similar in size to the Central Library. The money will also lead to renovations to seven branches and the automation of the way staff sorts and moves materials. Right now, it's done by hand.
"Multnomah County Library has a fairly antiquated system of moving materials around in that it is almost entirely done by hand," said Cunningham. "And other library system serve communities that are similar size to ours do almost all of that work in an automated way that really helps free up those workers to help people in a one-on-one way."
In December, both the Midland Library and the Holgate Library will close for construction, to reopen in 2024. They're both expanding but the Holgate branch will triple the size of the current space, and once completed, will be one of the largest libraries in Multnomah County.