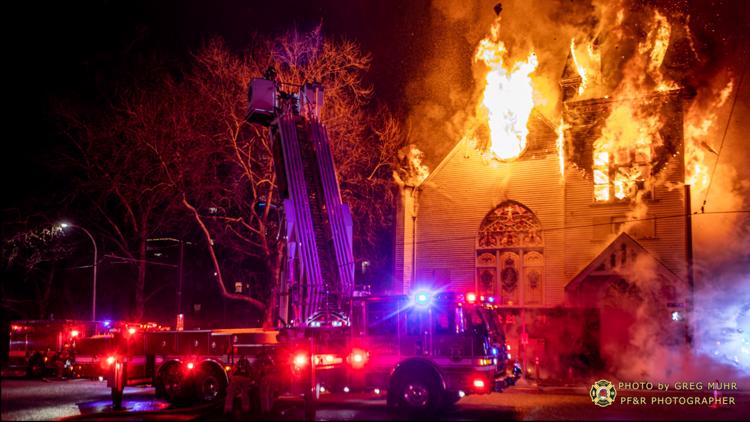 It took nearly 80 firefighters and resources to put out the fire in downtown Portland on Tuesday evening.
28-year-old Cameron David Storer, also referred to as Nicolette Fait, was arrested Wednesday evening, according to a Portland Fire & Rescue statement. They were identified as a suspect and taken into custody by the Portland Fire & Rescue Fire Investigations Unit.
They are currently facing charges of first-degree arson, second-degree arson and second-degree burglary. They are scheduled to be arraigned Thursday. 
Early Tuesday evening, Portland fire crews responded to a fire at the old abandoned church on Southwest 10th Avenue and Clay Street in downtown Portland. The build was significantly damaged in the fire.
Fire officials said that the church was unoccupied at the time of the fire, and no injuries were reported. 
Built in 1905, the three-story, 3,000-square foot building was formerly home to the Portland Korean Church but has been permanently closed and vacant for years. 
Crews called additional resources to get the fire under control. A large plume of smoke could be seen for blocks. Fire officials said there were concerns the church could collapse and take out the overhead streetcar power lines.
"We kind of have a lot of concerns coming together all at once," said Rick Graves, a spokesperson for PF&R, on Tuesday night. "There's a structure on the backside, a home, that had a little bit of fire hinging on it as well."
PHOTOS: Portland church fire
Fire did get into the walls and possibly the attic of the nearby home, located about 10 feet east of the church, but Graves said quick work by fire crews saved the home. Five residents were displaced.
About 80 firefighters worked to put out the large blaze.
Demolition of the church building is set to begin on Thursday, after staff from city engineer's office evaluated the stability of the wooden church Wednesday morning and deemed it unsafe.
This fire is still under investigation anyone who has information about this case is asked to call the Portland Fire & Rescue Fire Investigations information line by phone at 503-823-3473.